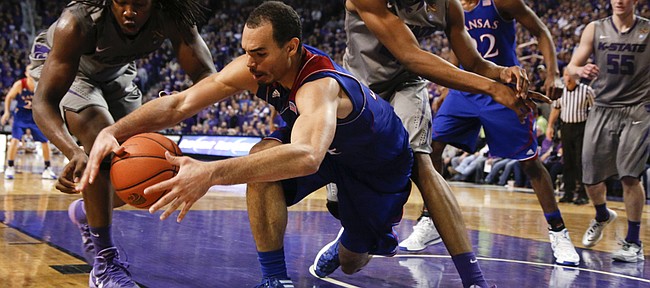 It may be hard to believe, but just one scholarship player from the state of Kansas will represent Kansas University and Kansas State in the 281st edition of the Sunflower Showdown tonight.
"I didn't know that," said KU junior forward Perry Ellis of Wichita, informed he was the only Kansan with a full ride gearing for today's 8 p.m. rivalry game in Bramlage Coliseum. "It means a lot to me being from Kansas. It puts a lot into the game.
"It's just exciting," added Ellis, who scored 16 points and grabbed 12 rebounds in the Jayhawks' 68-57 victory over KSU on Jan. 31 in Allen Fieldhouse.
Kansans recruited to the two programs as walk-ons who will dress for the game are Evan Manning and Tyler Self of KU and Mason Schoen and Brian Rohleder of K-State. Manning, it should be noted, is on scholarship this semester since the Jayhawks did not fill their allotment of 13 scholarships for the 2014-15 season. K-State's Nino Williams attended Leavenworth High but lists St. Louis as his hometown.
"It (Sunflower Showdown) definitely means a lot to everybody around here ... the players, the coaches, the fans. We definitely want to go out there and win," said Jamari Traylor, a junior from Chicago who collected six points, five rebounds, three assists and two steals in the first meeting in Allen.
Traylor sat out last year's trip to Manhattan — an 85-82 K-State victory in overtime — while serving a one-game suspension for what coach Bill Self deemed "irresponsible behavior."
"They got us on their home court last year. For me, it was a pretty tough game. I had to sit out that game. It was tough on me. This year I want to do good off the court so I can stay on the court," he added.
Though the Jayhawks have won 14 of the last 16 meetings and 49 of the past 53 against KSU, they did lose a year ago in Bramlage.
A sea of fans stormed the court after the Wildcats snapped a six-game losing streak to the Jayhawks and won their first home game against KU since 2011. KU is 23-3 all-time in Bramlage.
"It came down to the wire, and we definitely don't want that to happen again," Ellis said. "They get fired up there. They have a great student fan base. It's tough. It gets loud there, also."
KU freshman Devonté Graham, who scored 20 points in Saturday's 81-72 victory over TCU in Allen Fieldhouse, said he has been warned about what to expect tonight.
"Wayne (Selden, Jr.) was telling me about last year — how crazy it was," Graham said. "I'm preparing myself mentally."
Kansas State (13-15, 6-9), which was battered by Baylor, 69-42, on Saturday in Waco, Texas, has lost seven of its last eight games. KU is 22-5 overall and, at 11-3, leads Iowa State by a game in the Big 12 race.
"You can't overlook any game in the Big 12," Graham said. "Everyone is coming to beat us, especially us, winning the league 10 years in a row. They don't bow down to us. We've got to be the aggressor.
"This game is definitely a big game for us as far as staying at the top of the league. We've got to come out with a good mindset. We've got to come out aggressive," Graham added.
Self puts no stock in records.
"I don't think it matters what we've done. I don't think it matters what they've done," Self said. "I think it'll be a great crowd. I think it'll be juiced. It'll be emotional. We'll get a great effort from them, and they'll get a great effort from us.
"I don't see anything that would lead me to believe — since maybe they have not shot the ball well — that they'll shoot it poorly against us. They'll have a tendency to raise their level, just like most teams do."
KU raced to a 20-5 lead in the game in Lawrence and held a 33-17 advantage at halftime. The Wildcats hit 17.1 percent of their first-half shots, the fourth-worst-shooting percentage in a half in KSU history.
Yet KU wound up winning by just 11 points.
Marcus Foster and Thomas Gipson scored 19 points apiece for KSU, while Ellis had 16, Selden 14, Brannen Greene 11 and Frank Mason III 10 for KU.
"I would say their halfcourt defense is terrific, and they rebound the ball well. That's the biggest thing," Self said, indicating his team has more to play for tonight than in-state bragging rights.
"I think with the stakes ... hey, Iowa State had probably the best week anybody has had all year long in our league, going to Stillwater and winning and going to Texas and winning," Self said.
"We are playing K-State and will be pumped for K-State. The last two weeks of the season ... we are thinking about the league race, too. There's plenty of motivation. We're playing our state rival and a team that gave us a handful the first time we played them."
Ellis, who is 5-1 all-time versus KSU, hopes the Jayhawks can prevail tonight and remove the sour taste from a year ago.
"We definitely expect their best. The veterans, we're going to try to share that with everybody. It's a tough place to play and we really have to come to play. It's going to be a big game for us," Ellis said.
Weber lauds Ellis: KSU coach Bruce Weber on KU's Ellis: "He is always there for them. He could be MVP of the league."
Weber after Saturday's 27-point loss at Baylor: "It (locker room) was quiet. Obviously, there is not much else you can say. We got our butts smacked. We will see what they are about. We have one day, 24 hours to get our mind right. We have played pretty energized at home. Obviously a huge game, hopefully we will rise to the occasion and match Kansas on Monday. You just have to get your head right."
This, that: KSU is 11-4 at home this season. ... KSU has won seven of its last nine (and 12 of 17) home games vs. ranked opponents. ... KU leads the all-time series, 188-92. ... Self is 24-4 vs. KSU, including a 23-4 mark while at KU; Weber is 1-6 vs. KU, 1-5 while at K-State. ... Since the inception of the Big 12 in 1996-97, KU is 54-18 all-time on Big Monday (31-1 at home, 23-17 on the road), including 35-10 under Self.
Lucas featured: The Oregonian wrote a feature story on KU red-shirt sophomore Landen Lucas this weekend. The article concluded wondering whether Lucas would stay at KU or finish his career elsewhere in search of more playing time.
"He's happy there (KU)," Lucas' dad, Richard, told the paper. "I think he's going to stick it out unless something dramatic happens."
He attended three different schools his final three years of high school, including Findlay Prep, where he didn't receive all the minutes he desired.
"I think I needed to go through that because it definitely helps with situations like I'm in at a school like Kansas," Lucas told the Oregonian. "It's always nice to know that I've been through it before."
To read the Oregonian story on Lucas go to http://ljw.bz/1GjEjyX
Robinson rumors: Real GM reports that former KU forward Thomas Robinson, who was waived by Denver last week, has had discussions with San Antonio, New Jersey, Phoenix, Miami and Charlotte.
More like this story on KUsports.com