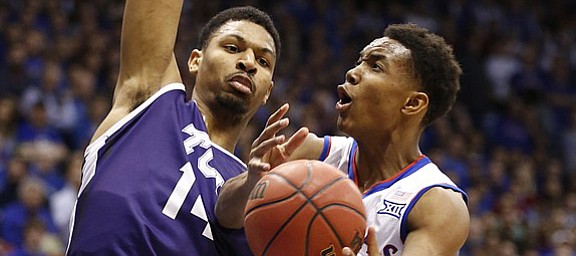 Devonté Graham, by nature, is a pretty quiet, laid-back dude. But there was nothing quiet about his play on Saturday, during KU's 81-72 victory over TCU at Allen Fieldhouse.
Graham, whose birthday is Sunday, scored a career-high 20 points in leading the Jayhawks to the hard-fought victory that improved KU to 22-5 overall and 11-3 in Big 12 play, and kept the Jayhawks one game up on Iowa State in the conference standings with four games to play.
Graham's contributions — 7-of-7 from the floor, 3 assists, 3 rebounds — came on a day when KU's offense had very little flow and chemistry. The freshman guard had combined to score just 15 points in the past seven games and blew that total out of the water on Saturday, just a couple of days after publicly sharing his disappointment in his recent "soft" play.
Photo Gallery
Kansas basketball v. TCU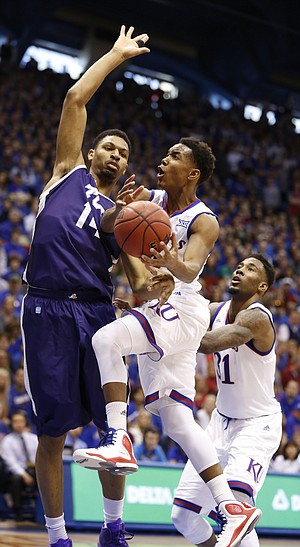 Images from Saturday's game between the Jayhawks and Horned Frogs at Allen Fieldhouse.
Podcast episode
Following his Kansas basketball team's 81-72 home win over TCU, coach Bill Self discusses the standout performances of backup point guard Devonté Graham and starting forward Perry Ellis, as well as numerous other topics.
Podcast episode
Kansas basketball players Perry Ellis, Devonté Graham and Jamari Traylor discuss the Jayhawks' 81-72 home win over TCU, and the contributions of manager-turned-walk-on Chris Huey, who got to play in the final minute.
KANSAS 81, TCU 72
While Graham did his thing in spurts, junior forward Perry Ellis delivered all day. Ellis finished with 23 points on 9-of-10 shooting and, at times, looked unstoppable in the post.
When KU finally decided to consistently give it to him down there, the offense ran much smoother and the Horned Frogs (16-11, 3-11) had no answer for Ellis or the offense he created when he passed out of double- and triple-teams.
Here's a quick look back at some of the action:
• The game turned when: The Jayhawks turned a tie game (24-all) into a seven-point lead by forcing a few TCU turnovers and finding more efficiency on offense. Ellis scored inside and also at the free throw line and Frank Mason III picked up a tough bucket after a steal. Brannen Greene also knocked down his only three-pointer of the day during the spurt that helped give Kansas a six-point halftime advantage.
• Offensive highlight: It came early, but it sure was pretty. Just a couple of minutes into the game, during one of the few times in the first half when KU's offense had good flow and rhythm, Ellis caught a pass at the elbow, drove down the left side of the lane and then floated a soft pass to the edge of the rim that Cliff Alexander deposited with a two-handed flush. Later in the game, Ellis was on the other end of an alley-oop, this one from Mason. Ellis, who ran the floor like only Ellis can, got ahead of the defense, rose to catch the pass and hammered it with one-hand while being fouled. Even the mild-mannered Ellis was smiling and high-fiving Mason after the feel-good play.
• Defensive highlight: It was subtle, but it was big. After missing a pair of free throws with KU leading just 47-42, Jamari Traylor got it back on the defensive end with a one-handed block that forced a TCU miss and led to a Greene rebound. Greene was fouled on the rebound and went down to knock in two free throws to push Kansas' lead back to seven. Subtle, but it helped keep TCU from pulling to within a possession.
• Key stat: Points in the paint. After owning a 16-12 advantage in this category at halftime, the Jayhawks dominated the territory near the rim in the second half, outscoring TCU 28-18 in the second half, with many of TCU's buckets coming late with KU playing a more passive style and choosing not to challenge the close chances.
• Up next: The Jayhawks head west for a Big Monday match-up with Kansas State at 8 p.m. at Bramlage Coliseum in Manhattan. KU knocked off K-State 68-57 Jan. 31 in Lawrence, in a game that KU led 20-5 and never looked back.
---
More news and notes from Kansas vs. TCU
---
More like this story on KUsports.com