Saturday, February 21, 2015
Stillwater, Okla. — Oklahoma State extended Kansas University's losing streak to five, defeating the Jayhawks, 80-76, in Big 12 women's basketball Saturday night in Gallagher-Iba Arena.
Oklahoma State led most of the game until a three-pointer by Natalie Knight gave KU a 54-53 lead with 8:04 remaining.
KU's biggest advantage was two points, 57-55. But a layup by Kaylee Jensen gave OSU a 61-60 edge, and the Cowgirls never trailed again. They stretched their lead to as much as nine points in the final minutes.
Document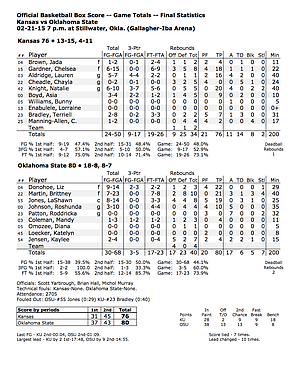 "We have to get people off the glass, and we have to get offensive rebounds in this league," KU coach Bonnie Henrickson said. "We didn't have horrific turnover numbers, but they only had six, so we're minus-eight on turnovers and minus-nine on offensive rebounds. It's a game of possessions and numbers. If you score 76 points on the road, you have a pretty good chance to win, but we just couldn't finish. We forced a tough game."
There were 10 lead changes in the contest, and OSU led by only one point with just under five minutes remaining before scoring five straight points for a 68-62 lead. The Cowgirls led 37-31 at halftime.
Knight led the Jayhawks with 20 points. Chelsea Gardner added 18 points and eight rebounds, and Lauren Aldridge scored 16 points.
It was the 24th time Gardner scored in double figures this season and the 22nd time Knight was in double figures.
Oklahoma State was led by Liz Donohoe with 22 points, followed by Brittney Martin with 21 points and 10 rebounds and LaShawn Jones with 19 points and eight boards.
The Jayhawks fell to 13-15 overall, 4-11 in the Big 12, while OSU improved to 18-8 and 8-7.
The Jayhawks will host Kansas State at 7 p.m. Wednesday.