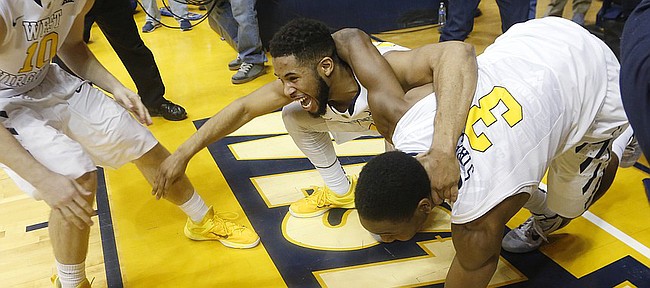 West Virginia point guard Juwan Staten — who went coast-to-coast for a layup, then sprinted back to bother a potential game-winning answer by Perry Ellis — certainly dominated crunch time in Monday's 62-61 victory over Kansas University at WVU Coliseum in Morgantown, West Virginia.
"It was one of the best winning plays that you'll ever see an opposing team make," KU coach Bill Self said Tuesday on his "Hawk Talk" radio show.
Some viewers thought Staten traveled before converting a layup at 3.9 seconds that gave WVU its one-point margin of victory.
"Regardless of how he got to the rim, he got to the rim and made the basket," Self stated. "Then he's the one who defended Perry on the other end. What a great hustle play. That's a kid who really wanted to win."
Regarding the first part of the 8.3-second sequence ... Staten, after a timeout, accepted an inbounds pass and managed to traverse the length of the court for a hoop in less than five seconds.
"We tried to deny Staten the ball, and we could not do it," Self said. "We should have put Jamari (Traylor) and Frank (Mason) behind Staten as opposed to just Frank and therefore make him catch it in front of us to make him use clock and (have) strong help where he had to beat two guys coming up the floor."
Or KU could have used a zone defense for the final WVU possession, with the Jayhawks trying to hold onto its one-point lead.
"If you are going to beat yourself up (second-guessing), we could have played zone last possession and tried to build a wall and make him (Staten) shoot a three," Self said. "That's hard for me to do, to buy into doing something you are not used to doing on a last possession. That's certainly something that could have created a problem, and looking back now, the way we defended it, I wish we'd done that, probably."
Big 12 Preseason Player of the Year Staten said coach Bob Huggins deserves credit for the game-winner.
"Huggs told me to start on the left-hand side, sweep around, catch the ball (off inbounds pass)," Staten said. "I had two screens. Coach told me to drive it to the man at the corner. If his man helped, Jon (Holton) was going to the rim for a lob. If he stayed put, I had to get it to the rim. I drove it to the corner. I saw Jon's man staying put. I saw Frank Mason coming to cut me off. I knew if I spun, I'd have Chase (Connor) on the right-hand side for a shot. When I spun, I saw nothing in the lane and laid the ball up. It was a good call by coach."
KU had 3.9 seconds to erase the one-point deficit and pull out the road victory.
Traylor inbounded and threw a bullet baseball pass to Perry Ellis, who, with Staten next to him, ultimately missed a layup at the buzzer.
"It worked out perfectly, but obviously Staten made a good play and Perry was just off balance a little bit," Self explained.
Staten — who had 20 points, four assists, no turnovers — and Mason — who had 18 points, two assists, two turnovers — barked at each other during various junctures.
"Always," Staten said, asked if trash-talking brings out the best in him. "I am going to be pumped all these games. This is Kansas. Everybody wants to play Kansas — Big Monday game, prime time. The fact he was doing a lot of jawing definitely helped me out. I like that. That's why I came back to school (for senior year). I appreciate him for that."
Limited minutes for Cliff: Cliff Alexander had no points and a rebound in six first half minutes. He did not play the second half.
"I'm still planning on starting Cliff," Self said. "Cliff wasn't his best last night. I'm not going to throw any player under the bus saying what all he didn't do, but he has to be a defensive presence for us. He has to protect the rim. His man caught the ball with no resistance at all, made two uncontested layups against him. A lot of it was scouting report, being in the right place. He's learning. It will take time. When he's good, he's really good. When he's not as good, our other players can do some things that maybe give us a better chance. It's not anything personal, it's the other guys probably gave us a chance in that particular game."
Watch list: KU's Perry Ellis is one of 16 players on the watch list for the 2015 Karl Malone power forward of the year award, it was announced Tuesday.
Staten fired up: WVU senior Staten told the Charleston Daily Mail he was especially fired up after a pre-game interview with ESPN.
"Holly Rowe asked me who was faster, me or Frank Mason," Staten said. "That kind of made me mad. I told her I thought I was the fastest player in college basketball. Hopefully people got to see that."