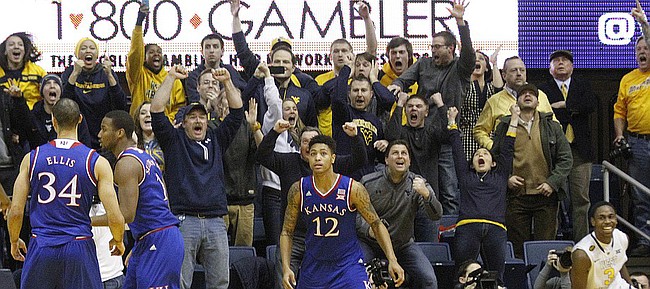 Morgantown, W.Va. — Kelly Oubre Jr. had a good view of Perry Ellis' late layup try in a 62-61 Big Monday road loss to West Virginia.
"I mean I can say what I saw, but it's not what everybody else saw. Apparently he didn't get fouled from the ref's eyes, so that's that," Oubre stated.
Oubre had 14 points and seven boards in the loss.
Photo Gallery
Kansas basketball v. West Virginia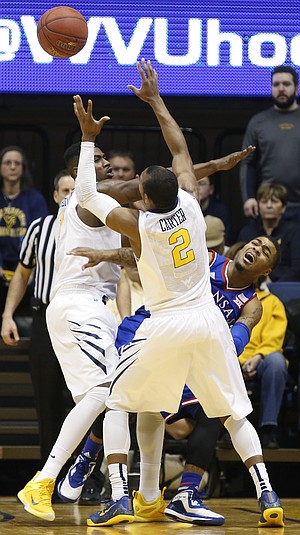 Images from Monday's game between the Kansas Jayhawks and West Virginia Mountaineers in Morgantown, W.V.
Podcast episode
Kansas basketball coach Bill Self answers questions about the breakdowns that cost the Jayhawks in a 62-61 Big Monday loss at West Virginia.
Podcast episode
Kansas basketball players Perry Ellis and Frank Mason III discuss the decisive final seconds of KU's 62-61 loss at West Virginia on Big Monday, when Juwan Staten scored a layup on one end of the floor, and Ellis missed a buzzer-beater immediately after it.
WEST VIRGINIA 62, KANSAS 61
Mob scene: Frank Mason III was caught in the rush of students that stormed the court and appeared upset as he tried to make his way to the northwest tunnel and KU's locker room.
"Toward the end, yes, closer to the locker room," Mason said of getting lost amid the mob of students. "Yes," he said asked if he was able to finally get out of the swarm of students without incident.
Cliff plays six minutes: Freshman Cliff Alexander had no points and a rebound in six minutes, playing only in the first half at WVU.
"The game was too much for him this early," KU coach Bill Self said. "We thought it'd be tough for Cliff with them trapping and him passing out of it. Williams (Devin, eight points, four boards) got what he wanted off him early. We were better against pressure without question with Jamari (four points, four boards) and Landen (Lucas, two points, six boards) in there."
---
More news and notes from Kansas at West Virginia
---
More like this story on KUsports.com