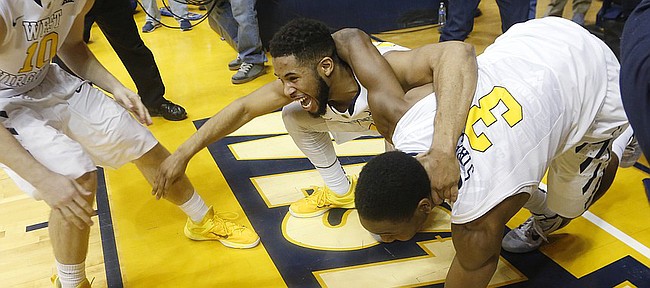 Morgantown, W.Va. — Of course, Bob Huggins loved the coast-to-coast layup Juwan Staten hit with 3.9 seconds left in West Virginia's 62-61 win over Kansas University on Monday in WVU Coliseum.
Yet West Virginia's coach was even more enthralled with the guard racing back to play defense as Perry Ellis attempted and missed a game-winning layup at the buzzer.
"Juwan made a great play," Huggins said of the Big 12's preseason player of the year who finished the game with 20 points off 9-of-18 shooting and four assists against no turnovers.
Photo Gallery
Kansas basketball v. West Virginia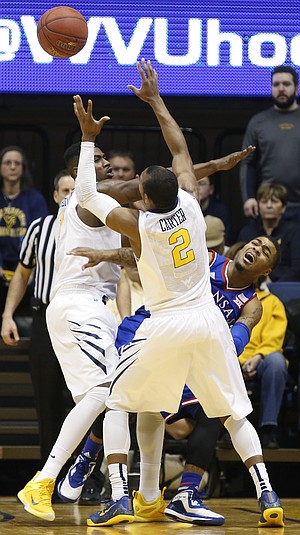 Images from Monday's game between the Kansas Jayhawks and West Virginia Mountaineers in Morgantown, W.V.
Podcast episode
Kansas basketball coach Bill Self answers questions about the breakdowns that cost the Jayhawks in a 62-61 Big Monday loss at West Virginia.
Podcast episode
Kansas basketball players Perry Ellis and Frank Mason III discuss the decisive final seconds of KU's 62-61 loss at West Virginia on Big Monday, when Juwan Staten scored a layup on one end of the floor, and Ellis missed a buzzer-beater immediately after it.
WEST VIRGINIA 62, KANSAS 61
"I don't know who else was down there. Whoever else was down there that didn't let it go in. They had a great play," Huggins added of the Jayhawks. 
Indeed, immediately after Staten's bucket, Jamari Traylor fired a deep baseball pass to Ellis for the possible game-winning shot.
"Juwan scores and then he's the one who runs in front of Perry Ellis to miss the shot. I don't know if he got a piece of the ball, but he altered his steps," Huggins said.
Of Staten's coast-to-coast layup that came after a timeout with 8.3 seconds left and KU up one, Huggins said: "I wanted Juwan's shoulders to face the basket."
Asked about his coaching style at the end of games, Huggins said: "I'm not thinking about that. I'm thinking about how we get the ball to the guy, how we get the run on the ball, how we block their bigs and how we get it on the rim. I think about who is going to take it out of bounds.
"There's a lot of things to think about. I don't have time to think about the kind of coach I'm going to be. You know you want to get the ball to Juwan, but who's going to pass it, set the screen and hold that guy? It's the same move he made at Oklahoma State and he missed it."
KU suffered 14 turnovers off the Mountaineers' press.
"We had guys cramping up," Huggins said of backing out of full-court trapping the second half. "The guys I wanted in there were cramping up. I didn't do it for any reason other than I needed those guys on the floor."
West Virginia improved to 20-6 overall and 8-5 in the league.
"Why would it (victory) take the pressure off us?" he said. "The whole point is to have a higher seed in the tournament. The only way this is like an NCAA tournament game is because we only had one day in between."
Just 7,033 fans attended on a snowy night.
"I know we would have had a big crowd if it wouldn't have snowed," he said. "To have this many people is great. The students (who stormed court) were great. They were terrific."
---
More news and notes from Kansas at West Virginia
---