Morgantown, W.Va. — West Virginia, which knocked off Kansas University, 62-61 at home on Big Monday, faces the biggest travel challenge of all teams in the Big 12.
The Mountaineers started the league season Jan. 3 at TCU and Jan. 5 at Texas Tech, with the squad staying in Texas for the two games, both wins.
"You think about it ... we go there (to Morgantown, West Virginia) once, they come here nine times," Kansas coach Bill Self said of WVU visiting the states of Kansas, Texas, Iowa and Oklahoma. "It's a lot harder on them than us over time. They've tried to set it up to play two games on some road trips."
Photo Gallery
Kansas basketball v. West Virginia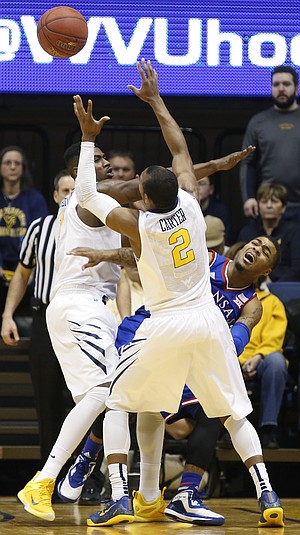 Images from Monday's game between the Kansas Jayhawks and West Virginia Mountaineers in Morgantown, W.V.
Podcast episode
Kansas basketball coach Bill Self answers questions about the breakdowns that cost the Jayhawks in a 62-61 Big Monday loss at West Virginia.
Podcast episode
Kansas basketball players Perry Ellis and Frank Mason III discuss the decisive final seconds of KU's 62-61 loss at West Virginia on Big Monday, when Juwan Staten scored a layup on one end of the floor, and Ellis missed a buzzer-beater immediately after it.
WEST VIRGINIA 62, KANSAS 61
WVU coach Bob Huggins on KU: "As usual, they are very talented. I think they've done a great job of adjusting from being a team that I think is more comfortable throwing the ball in close. They've really adjusted. They are making a lot of perimeter shots."
Staten a finalist: WVU's Juwan Staten, who hit the game-winning shot against Kansas, is one of 10 finalists for the Senior CLASS award, which recognizes four areas of excellence: community, classroom, character and competition.
Other seniors who are finalists: Alex Barlow, Butler; D.J. Newbill, Penn State; Reece Chamberlain, Belmont; Kevin Pangos, Gonzaga; D'Angelo Harrison, St. John's; Chasson Randle, Stanford; Tyler Haws, BYU, Matt Stainbrook, Xavier and Frank Kaminsky, Wisconsin.
Self before Monday's game, on KU's preparation time for the West Virginia press: "We had to play 40 minutes Saturday against Baylor. Usually our routine between Saturday/Monday games is a 30-40 minute practice. That's what we did yesterday morning (Sunday) before we took off for West Virginia. It hasn't been much. We've gone over meat and potatoes, how we want to attack pressure and defend them as well. Hopefully we simplified it in a short amount of time where our guys are comfortable."
Self on San Antonio Spurs coach Gregg Popovich, who recently won his 1,000th game: "He knows the game, makes it interesting, takes good players and makes them better, takes unknown players and makes them known."
A former KU volunteer assistant on Larry Brown's staff in 1986-87, Popovich at the time was on sabbatical from Pomona-Pitzer, a Div. III program in Claremont, California.
"He is a guy who knows the game very, very well," Self added.
"You've got to coach a long time to win that many games. There's a select few. You've got to coach a long time and know what you are doing," Self said.
To read Chuck Woodling's Journal-World column on Popovich from 1987, click here.
---
More news and notes from Kansas at West Virginia
---
More like this story on KUsports.com