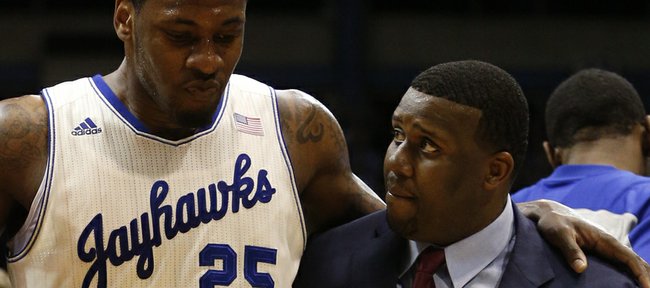 Kansas University men's basketball assistant coach Jerrance Howard will serve a two-week suspension from all team activities as punishment for a July 2014 arrest for possession of marajuana, KU coach Bill Self announced Thursday afternoon. The suspension is effective immediately.
"I take full responsibility for my actions," Howard said in a press release. "I should have never been in that situation. Not only did I let myself down, but also my family, my coaches, my players, the fans and this program. Coach Self has done so much for me and I'm honored to a part of this team and this staff. I compounded the problem by not disclosing this incident to Coach Self and Kansas Athletics. I brought this penalty upon myself and will use this situation as motivation to work harder and represent this great program positively moving forward."
KU coach Bill Self, who voiced his disappointment over Howard's actions during his regular meeting with the media Thursday afternoon, said not knowing about Howard's run-in with the law long ago bothered him the most.
"Regardless of circumstances, I was disappointed that I was not made aware of this immediately following the incident," Self said in the release. "Jerrance has been a part of our family for many years. I'm confident that he will take ownership of this and be better for it."
A Wednesday report from Kirk Wessler, of the Peoria Journal-Star, indicated that Howard, a Peoria, Illinois, native, pleaded guilty to misdemeanor drug possession in Illinois' Peoria County last summer.
According to the report, Howard, 34, was arrested in July 2014 for unlawful possession of cannabis and ordered to pay nearly $1,200 in fines and court fees and placed on six months of court supervision, which ends Friday.
Howard played at Illinois from 2001-04, including three seasons for Self, before joining the coaching profession. Prior to his joining the staff at Kansas before the 2013-14 season, Howard was an assistant coach at SMU (2012-13) and Illinois (2008-12). He also worked for the basketball staffs at Kentucky (2006-08) and Texas A&M; (2005-06).