Lubbock, Texas — Cliff Alexander started for the second time this season Tuesday night, but he was only the second-best freshman center in the game.
Texas Tech's Norense Odiase, who has a much bigger body than Alexander, used it to total 13 points and eight rebounds in 27 minutes. Alexander contributed 10 points, five rebounds and four blocked shots in 20 minutes.
"I thought Norense Odiase played really well, and I thought he got the best of Cliff tonight," Kansas coach Bill Self said.
Photo Gallery
Kansas basketball v. Texas Tech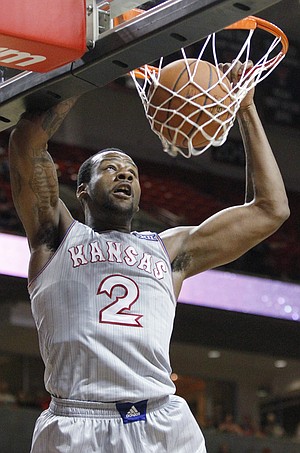 Images from Tuesday's game between the Jayhawks and Red Raiders at United Supermarkets Arena in Lubbock, Texas.
Podcast episode
Kansas basketball coach Bill Self speaks with media members following the Jayhawks' road win at Texas Tech.
Podcast episode
Kansas sophomore wing Brannen Greene answers questions from the media after Kansas blew out Texas Tech Tuesday night, at Lubbock, Texas.
KANSAS 73, TEXAS TECH 51
Said Texas Tech coach Tubby Smith of Odiase: "He was outstanding. I was very impressed. He was one of three guys who belonged on the same court as Kansas. He and Zach (Smith) and Kennan (Evans)."
Told that Self said he thought Odiase outplayed Alexander, Smith used the question as a teaching moment: "He played well tonight. He did do a good job. Whether he outplayed anybody, it's usually us against them, not one guy against another. Norense does play with that edge. He plays that way."
Odiase wasn't doing backflips about outplaying Alexander, either.
"It's always good to win a battle, especially in the paint, or just play harder than your opponent," said Odiase, a native of Fort Worth who stands 6-foot-9 and weighs 270 pounds. "I just wish that it resulted in a win."
Texas Tech (2-10) remained in ninth place in the Big 12 standings.
---
More news and notes from Kansas at Texas Tech
---