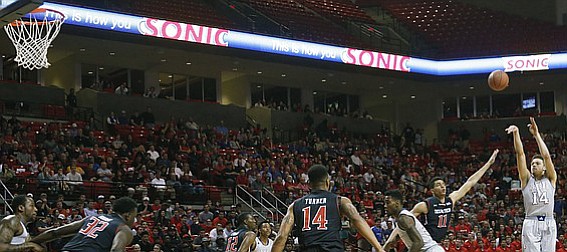 Lubbock, Texas — Nobody has to tell this season's Kansas University basketball team to make itself comfortable. It needs no help with that. Make a few threes, build a double-digit lead, and let it amount to the equivalent of a little something to take the edge off the moment.
Then the other team catches up, which is usually what happens when one team plays with a sense of urgency and the other does not.
Thanks to a terrific second half, Kansas got away with it Tuesday night and defeaatd ninth-place Texas Tech, 73-51, at United Supermarkets Arena, but not without a stretch of weak basketball in the first half that could have had a greater impact against a more competitive opponent.
Photo Gallery
Kansas basketball v. Texas Tech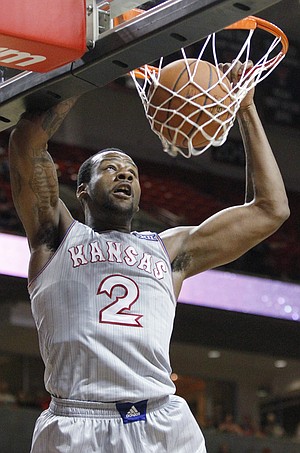 Images from Tuesday's game between the Jayhawks and Red Raiders at United Supermarkets Arena in Lubbock, Texas.
Podcast episode
Kansas basketball coach Bill Self speaks with media members following the Jayhawks' road win at Texas Tech.
Podcast episode
Kansas sophomore wing Brannen Greene answers questions from the media after Kansas blew out Texas Tech Tuesday night, at Lubbock, Texas.
KANSAS 73, TEXAS TECH 51
Obviously, winning a Big 12 basketball game by such a wide margin requires doing many things well and Kansas certainly did. For one, the Jayhawks again drained three-pointers at a high rate of accuracy (55 percent). They also defended pretty well and moved the ball with great efficiency in the second half.
But first they had to get their too-cool-for-this-Texas-school chill period out of the way.
Three three-pointers into it, Kansas blazed to a 15-4 lead. Texas Tech stormed back to tie the score, 20-20, before Kansas took a 27-22 lead into the locker room on Wayne Selden's third three of the half, just before the buzzer.
Kansas turned it over eight times in the first half and made just 5 of 14 two-point field goals. At that point, KU had 16 two-point field goals in its past 60 minutes of game clock, including both halves of the Oklahoma State loss.
The curtain came up for the second half and Kansas demonstrated ball movement that called to mind the 2008 national championship squad. The same team that struggled to score 27 points in the first half, even when shooting a decent 5 of 13 from long distance, rattled off 46 points, shot .727 from the field and made 6 of 7 three-pointers.
"Fools' gold," Kansas coach Bill Self again called relying on the three-point shot to win games. "You can't bank on making 55 percent or 50 percent of your threes. You want to, but if that's what you play to, then you're not going to be able to hang your hat on that. You play a team that  takes away the threes and forces you to score inside, you'll end up going home sad. That's what happened Saturday. We had no low-post game.
"You can score it inside off the bounce. You can score off the pass. You can score it in transition or whatever, but you've got to be able to score points close to the basket. That's the name of the game, in my opinion, is getting easy baskets and eliminating easy baskets. And we're not doing near a good enough job of doing that inside."
That's a tough message to preach when the team so often does it and gets away with it.
But 20 minutes of game from Tuesday's tape back up Self's contention that the best path for this team to make the most of its potential lies with playing inside-out basketball.
"We had no low-post game at all the first half, but the second half we actually threw the ball inside, guys made some plays and we looked a lot better," Self said. "You'll shoot it better from behind the arc if you can play inside-out."
For shooters as hot as Wayne Selden Jr., Frank Mason III and Brannen Greene, wide-open threes are easy shots, so the more of those that are created by forcing the defense to collapse inside, the better long-distance marksmen will shoot. That sort of balance makes Kansas a potentially dangerous team.
"I think there's a lot of room for improvement. I don't feel real comfortable with how things have gone lately," Self said. "You guys might not agree, but when you rely on making shots, that can easily go the other way. We've got to rely on making people play poorly and rebounding, defending, ball-moving, things like that. I think we're probably average at those things and we're kind of relying a little too much on making shots right now."
There was nothing average about the way Kansas did all those things in the second half, including making long-range shots, and the result was a second-half blowout.
---
More news and notes from Kansas at Texas Tech
---