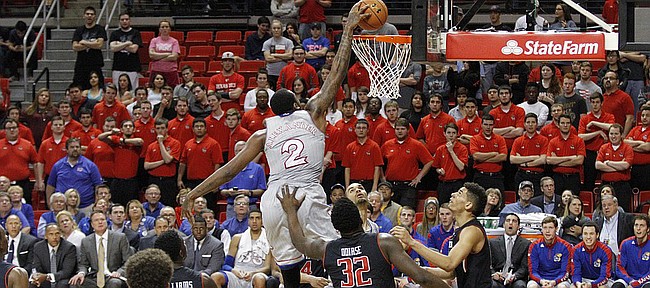 Lubbock, Texas — Cliff Alexander's well-publicized "motor" was revving too fast during the first minute and a half of Tuesday's Kansas-Texas Tech basketball game in United Supermarkets Arena.
"I was a little bit too excited," KU's 6-foot-8, 240-pound freshman power forward said after scoring 10 points off 4-of-5 shooting, grabbing five rebounds and blocking four shots while playing 20 minutes in the (20-4, 9-2) Jayhawks' 73-51 victory over the (12-13, 2-10) Red Raiders.
He also had two turnovers, which he committed the first two times he touched the ball in the paint.
Photo Gallery
Kansas basketball v. Texas Tech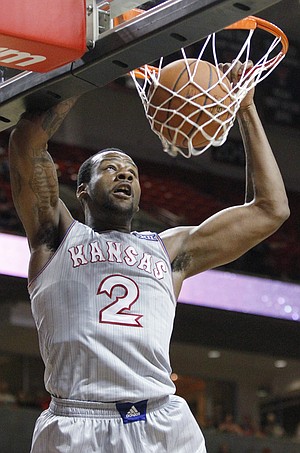 Images from Tuesday's game between the Jayhawks and Red Raiders at United Supermarkets Arena in Lubbock, Texas.
Podcast episode
Kansas basketball coach Bill Self speaks with media members following the Jayhawks' road win at Texas Tech.
Podcast episode
Kansas sophomore wing Brannen Greene answers questions from the media after Kansas blew out Texas Tech Tuesday night, at Lubbock, Texas.
KANSAS 73, TEXAS TECH 51
He gunned one pass over Kelly Oubre Jr.'s head into the stands in the corner and heaved another pass out of play near mid-court.
"The trap kind of surprised me," said Alexander, who coach Bill Self said was a bit "nervous" in making his second start of the season, first since a Dec. 22 game against Temple.
"I didn't know there was a trap coming. It kind of shook me a little bit," added Alexander, who has been challenged by Self to play with a motor after various games during the Chicagoan's freshman campaign.
Alexander played so well after the early snafus that KU's coach was able to joke about the over-throws after the game.
"I think Cliff's first two passes ... if fans in the 10th row weren't alert, maybe he coulda hurt somebody," Self said, smiling. "Nobody's going to accuse him of being Bill Walton passing the ball out of the post. We didn't do particularly well the first half as far as taking care of the ball (six turnovers, 14 for game). I do think traps bothered us in the post."
Alexander started in place of Jamari Traylor (no points, two boards, one block, one steal, 19 minutes) who had opened the last 12 games.
"It was probably a combination of reasons," Self said of the switch in the wake of Saturday's loss at Oklahoma State. "We needed to do something different in my opinion, so that's basically it. We've won games playing small, playing Jamari at the 4. I'm not saying it couldn't happen that way again. I think over time we've won games so we haven't switched. The bottom line is we need more inside presence for us to have a chance to have a really good season, I believe."
Alexander's four blocks tied a career high. He also had four against Michigan State.
"I am a rim protector, that's what they need me to do, protect the rim," said Alexander, who aggravated his bruised sternum injury after getting hit during the game. He's had the chest discomfort the past two weeks after taking an elbow from Landen Lucas (three points, three boards, 11 minutes) in practice.
"Our guards kept getting beat. I just needed to protect the rim, play my role."
He said he found out he was starting, "after the Oklahoma State game. Coach just said he wanted to put me in the starting lineup tonight. I had to come out and play aggressive like I usually play."
Of Alexander's play, Self said: "I thought he played fine. I won't get too excited. He made some easy shots, got a couple dunks. He was active. He has to a better job rebounding the ball and guarding his man. I thought the guy he was guarding, Odiase (Norense, 13 points, eight boards) played well and got the best of Cliff tonight."
Wayne Selden Jr. hit four of seven threes and scored a game-high 16 points on a night the Jayhawks cashed 11 of 20 from beyond the arc. Perry Ellis scored 14 points, 12 the second half, and now is three shy of 1,000 for his KU career. Brannen Greene hit two second-half threes and had 10 points.
"I think we responded very well (to OSU loss)," Alexander said. "We struggled in the first half, picked it up in the second half. Wayne hit some big shots; Perry stepped up."
KU, which led 27-22 at the break thanks to five straight points by Selden, hit 72.7 percent of its second-half shots in scoring 46 points. KU finished shooting 53.1 percent for the game to Tech's 33.3 mark.
"If you are going to shoot 'em, it's obviously better making as many as you can," Self said of threes, which he also referred to as "fool's gold" in terms of how many KU has been hitting of late.
Freshman Sviatoslav Mykhailiuk, who had played three minutes in the last six games, was 0-for-2 from three with a steal and turnover in nine minutes.
"He was OK. He did fine," Self said. "They blocked three shots, they were all threes in the first half (including one of Svi's knocked into the stands). What that tells me is if they are blocking threes you are not open. They got Kelly, Wayne and Svi. He did fine. He needs to get extended minutes. We hadn't had a chance to really do that with him as much as we'd liked."
KU, which won its 20th game for the 26th straight season, will next meet Baylor at noon Saturday in Allen Fieldhouse.
---
More news and notes from Kansas at Texas Tech
---
More like this story on KUsports.com