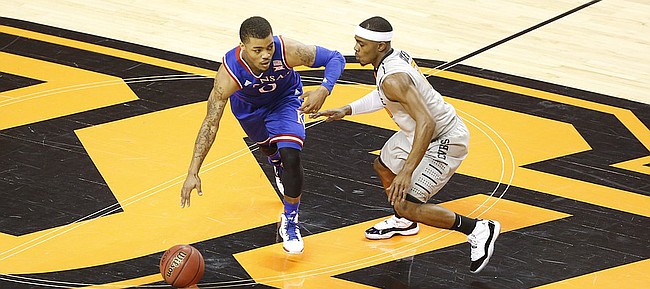 Stillwater, Olka. — Kansas University sophomore Frank Mason III was hit with a technical foul with 2:40 left in the first half and the Jayhawks leading Oklahoma State by 11 points in what ultimately turned into a 67-62 defeat Saturday in Gallagher-Iba Arena.
"I saw Brannen (Greene) surrounded by the Oklahoma State players (after a tie up with KU on offense). I kind of went over there. I just said, 'Everyone chill out,' and that's it." Mason said.
"He gave me a technical for saying, 'Everyone chill out.' Yeah I was very surprised. I didn't think I deserved a tech for that. I didn't say it directly toward anyone. I don't see why I would get a tech for that," Mason added.
Photo Gallery
Kansas basketball v. Oklahoma State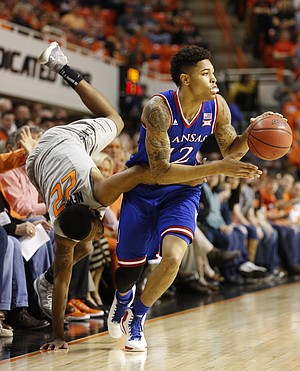 Images from Saturday's game between the Jayhawks and Cowboys at Gallagher-Iba Arena in Stillwater, Oklahoma.
Podcast episode
KU coach Bill Self says sluggish start to 2nd half killed Kansas in 67-62 loss at Oklahoma State.
Podcast episode
Kansas University basketball players Wayne Selden and Perry Ellis explain how the Oklahoma State press bothered Kansas during Saturday's 67-62 loss in Stillwater.
OKLAHOMA STATE 67, KANSAS 62
Oubre held to one point: KU freshman guard Kelly Oubre Jr. scored one point in 14 minutes. He missed three floor shots, hit one of two free throws and had three rebounds in 14 minutes.
"I don't think he played as well," coach Bill Self said. "Kelly is a really good player. When he is playing with energy and defending, rebounding and doing those things, offense comes easier. I didn't think anybody did those things well today."
Self on Gallagher-Iba: "I don't know our record here. I don't think it's very good, 3-5 or something like that," he said, correctly identifying KU's 3-5 mark in Stillwater in the Self era.
"They were just better than us today. Le'Bryan (Nash, 18 points, five rebounds) was best player in the game. I thought Hickey (Anthony, 15 points, three boards) played well. We did a good job on Forte (Phil, 13 points). He only got off one good look against us. He made us pay when we didn't hedge ball screen. This is a great building. I don't follow Oklahoma State basketball close enough to know what kind of home court they have on a consistent basis. When we've been here, it's been a good home court. I think their players feed off it," Self added.
Final Four squad cheered: OSU honored its 1995 Final Four team and coach Eddie Sutton at halftime.
Stats, facts: The game drew 10,399 fans in an arena that seats 13,611. ... KU leads the all-time series, 110-56. ... OSU won its second-straight over KU in Gallagher-Iba Arena, tying the series at 33-33 inside the facility. ... Self is 344-73 at KU, 13-7 against OSU as KU coach. ... For the first time this season, KU lost when leading at halftime and is now 15-1 in such games. ... KU was behind with five minutes left for the fifth time and is 1-4 in those contests. ... KU hit a season-best 78 percent (7-for-9) from three in the opening 20 minutes. ... KU hit seven threes in a half for the fourth time this season (7-for-14, first half vs. Rhode Island; 7-for-12, second half vs. Texas Tech; 9-for-13, first half vs. Oklahoma). ... OSU went 0-for-9 from three the first half. ... KU outr-ebounded OSU 20-9 the first half. The nine rebounds were the fewest allowed in a half in conference play since TCU grabbed eight in the second half (2/13/13). ... The Jayhawks held Florida to nine rebounds in the second half earlier this season (12/5/14). KU was out-rebounded in the second half, 26-15. ... KU's two blocks tied a season-low, while the team's 18 turnovers marked a season-high. ... In the last six games, KU's bench has outscored the opponent's bench 149-40 (31-7 against Oklahoma, 31-8 against Texas, 35-4 at TCU, 14-9 against K-State, 20-8 versus Iowa State, 18-4 at Oklahoma State).
---
More news and notes from Kansas at Oklahoma State
More like this story on KUsports.com