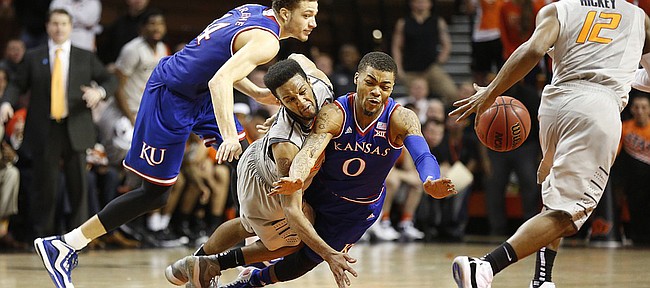 STILLWATER, OKLA. — Holding a comfortable 14-point lead the first half against an Oklahoma State squad playing with a flu-ridden Phil Forte, Kansas University's basketball team sure looked as if it would tighten its stranglehold Saturday on the Big 12 Conference basketball race.
Needless to say ... things didn't quite turn out that way.
Harassed by a full-court press that forced KU into seven second-half turnovers (18 overall), the Jayhawks limped to just 21 points the final 20 minutes of a 67-62 defeat in Gallagher-Iba Arena.
Photo Gallery
Kansas basketball v. Oklahoma State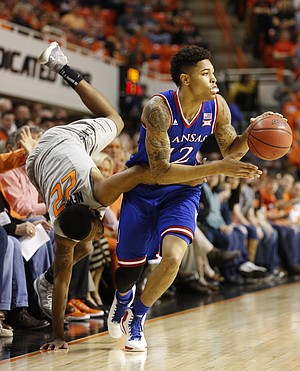 Images from Saturday's game between the Jayhawks and Cowboys at Gallagher-Iba Arena in Stillwater, Oklahoma.
Podcast episode
KU coach Bill Self says sluggish start to 2nd half killed Kansas in 67-62 loss at Oklahoma State.
Podcast episode
Kansas University basketball players Wayne Selden and Perry Ellis explain how the Oklahoma State press bothered Kansas during Saturday's 67-62 loss in Stillwater.
OKLAHOMA STATE 67, KANSAS 62
The setback snapped KU's five-game winning streak and dropped the (19-4) Jayhawks to 8-2 in the Big 12 — a game better than Iowa State, two better than West Virginia, Oklahoma and Baylor.
"I don't think overconfidence was it. I think overall competitive attitude was it," KU coach Bill Self said of the huge discrepancy in halves.
The Jayhawks led by 11 — 41-30 — at the break.
"You can't look at any individual on our team and say they had a good game," Self assessed. "We had a couple guys make some shots (KU hit 7 of 9 threes the first half; 3 of 11 the second). We didn't play very well, didn't coach them very well, didn't do anything very well today."
The Jayhawks did pass the eye test in scoring 41 points the first half off 56.5 percent shooting.
The second half? Not so pretty. KU hit eight of 30 shots for 26.7 percent against an OSU team that improved to 16-7 overall and 6-5 in the league.
"Just the fluidity," KU sophomore Brannen Greene said of KU's second-half woes. He hit three three-pointers and scored 10 points the first half, failing to score in the final half. "When they started pressuring us, we started our offense farther out than we wanted to. It just threw off everything. When you are able to start the offense around the three-point line, you are in scoring position. We weren't in scoring position with our offense. They got after us and some of us got rattled."
OSU used a 14-0 run to erase the entire deficit and grab a 44-42 lead just 3 1/2 minutes into the final stanza.
"No excuses. They outplayed us the second half and pulled it out," added Greene, well aware of the conference implications.
"We've still got a one-game lead. It would have been nice to keep the two. Things happen," he said. "Down the stretch we didn't play like we usually do, that's why we lost."
Self didn't blame the press entirely for KU's woes.
"I don't think we turned it over a ton because of their pressure. It got us out of rhythm some," Self said. "When we did turn it over we got passive and obviously didn't play aggressive. We did look bad early second half against their pressure. I'm not sure that was the biggest reason we lost the game. The biggest thing is we rebound the ball so soft. We were 20-9 on the boards the first half. They flippped the switch on us the second half (out-rebounding KU, 26-15). Our rotation rebounding was awful."
Self did concede his Jayhawks, "didn't come out ready to play the second half. Wayne (Selden Jr., 15 points, 4-5 from three) has a breakaway, slows down and lets a guy foul him from behind. Instead of it being an 'and-one,' we make one of two (from line).
"We take the ball out and throw it to them and they score. That kind of took the lid off the basket for them (to open second half)," Self noted.
As far as which player the team should look to bring energy at the start of lethargic halves, Self responded: "I think we should look to Jamari. Obviously that was not good today," he added after Jamari Traylor suffered six turnovers while scoring eight points and grabbing six boards.
Junior Perry Ellis had 10 points off 4-of-10 shooting.
"We never got him going at all. We need him to be a good player for us, to be a numbers guy. He got 10 rebounds which is positive, but he has to do more than score limited points," Self said. "Because he's our best offensive player."
KU, which fell behind by as many as seven points (59-52 at 7:21) did have a chance down the stretch. Self called time with 41.9 seconds left and 24 on the shot clock, the Jayhawks trailing by three points, 65-62. Frank Mason III and Greene missed inside shots, OSU immediately converting a layup on the other end, the students at that point preparing their mad dash onto the court after the final buzzer.
"We ran 'elevator door' for Brannen (trying to get him a three)," Self said. "They got through it and the plan was just to go get a quick two after that.
"I don't know if that was when Perry got the ball knocked out of his hand. From my angle it looked like maybe we should be shooting free throws," Self added of an inside shot by Ellis at 1:48 with KU down four. "Brannen had the ball at three feet. He tried to jump over a guy. Obviously didn't score. Those were two biggest plays late."
KU will next meet Texas Tech at 8 p.m., Tuesday in Lubbock.
---
More news and notes from Kansas at Oklahoma State