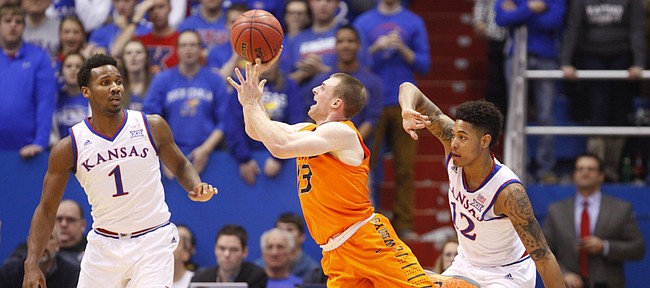 Stillwater, Okla. — Phil Forte III, son of the former Kansas University defensive lineman with the same name, followed in his dad's footsteps and played football as a youngster.
Oklahoma State's hard-nosed 5-foot-11, 185-pound junior basketball point guard was a quarterback in seventh and eighth grades in Flower Mound, Texas.
"Going into my freshman year of high school, it was between football and basketball. I had a chance to play varsity basketball as a freshman. If I would have played football, then my coach would have put me on JV. It's when I decided to drop football and go straight basketball," the younger Forte told the Journal-World in an interview at Big 12 Media Days.
Of course, there were some regrets giving up football while living in pigskin-crazed Texas.
But not many.
"I missed it a little bit at first. I was better at basketball. I put a lot more time into basketball," said Forte, Oklahoma State's leading scorer at 17.1 points a game heading into today's 1 p.m. game against KU in Gallagher-Iba Arena. "I think it's where I get some of my toughness from — from football and from my dad. He kind of put that in me."
Forte, who has hit 56 of 135 threes for 41.5 percent, credits his pops for helping him become a dead-eye shooter.
"It's something we both worked on together," Forte said. "He got me some shooting videos to learn great form. I was lucky. He would go in the gym and rebound for me for hours, chasing down balls.
"Any time I wanted to shoot, he'd go rebound for me. Any way he could help me out, he always was willing. We kind of realized at my height I'd have to be able to shoot the ball in order to play at the level I wanted to. We both kind of stuck to it and it worked out from there."
Forte said he and dad visited the gym regularly "my freshman or sophomore year of high school (Marcus High) when I realized it could be my ticket to play college basketball. I just kind of took it from there."
Phil III and his good buddy, Marcus High teammate Marcus Smart, wound up attending Oklahoma State as a package deal. Smart left after his sophomore season for the riches of the NBA. Smart, the No. 10-ranked player in the Class of 2012 by Rivals.com, was recruited by KU, as well as Forte, an unranked three-star prospect.
"They were (an option)," Forte said. "KU is obviously a great program. I just didn't feel that was the place for me to go play and he (dad, who played football for Mike Gottfried and Bob Valesente at KU from 1983 to '86) realized that. He just wanted what's best for me. Luckily coach (Travis) Ford and Oklahoma State was where I belonged and was able to go.
"I think it's kind of ironic. I grew up a huge die-hard KU fan, so any time I line up against them ... " Forte added, referring to being fired up. "They are used to that every night. They get everybody's best shot. Anytime you line up against Kansas it's just fun. If you are a competitor, that's what you want. It just makes it more interesting for me."
Forte — he is 2-4 in games played against KU — scored 18 points off 4-of-8 shooting (9-for-9 from line, 1-of-2 from three) in the Cowboys' 67-57 loss to the Jayhawks on Jan. 13 in Allen Fieldhouse. His two free throws proved the difference in Wednesday's 65-63 overtime victory over Texas in Austin.
"We recruited him, not as hard as we should have, obviously," KU coach Bill Self said. "He can really shoot. Every defense is designed to stop him. He really has to earn his (points). It seems to me if he's not open, he just moves a step farther out, another step farther out. He's the best in our league moving without the ball. He doesn't get tired.
"He works so hard. If you listen to the comments in the media about his work ethic and time he puts in ... he probably puts in as much time as any player in America.. He's deserving of the nice things people say about him. He's earned it."
OSU enters today's matinee 15-7 overall and 5-5 in the Big 12. KU is 19-3, 8-1.
"It's a big challenge anytime you line up and play a team like Kansas with so much tradition and history they have," Forte said. "It's just a lot of fun."
First meeting: KU's Frank Mason III scored 16 points and Kelly Oubre Jr. 14 in the first meeting. Le'Bryan Nash had 21 points and 12 rebounds and Forte 18 points for OSU. Michael Cobbins scored just six points with two rebounds.
"I think Cobbins is about as good a defensive presence as we have in the league. He's a good shot blocker and has given us problems in the past when we've tried to score inside," Self said of the 6-8, 230-pound senior, who has 42 blocks in 19 games.
"We did a good job on Forte the first game and did a good job on Le'Bryan the first half," Self noted. "Both ended up getting numbers. We've not played great at Gallagher-Iba for the most part (3-4 under Self). Last year we had a 10-point lead with 10 minutes left and ended up giving it away (in 75-62 loss). We'd like to play at a higher level than we have there. They have something to say about that."
Memories: It has been 30 years since Self played point guard at OSU: "I love Stillwater and I love OSU," Self said. "We spent 11 years of our life there (playing, coaching), but it's not like it used to be. It was emotional for me going back there, our first game here. It was a Big Monday, if I'm not mistaken, and they had a Final Four team. They were great. And we weren't quite as good, and I think I called three timeouts before the 16-minute mark because things weren't going really well (in KU's 80-60 loss).
"It's not anything different for me anymore. It's just like going to Ames or just like going to Norman, except you have a chance to see people after the game. It's always good to see familiar faces. The place is important to me. Lot of people there helped raise me ... I'm so appreciative. But over 30 years it kind of dwindles, the emotion that you have when you go back."
This, that: KU junior Perry Ellis needs 27 points to become a 1,000-point scorer at KU. ... KU leads the all-time series with OSU, 110-55. KU has won eight of 10 and 12 of 16 vs. the Pokes. ... KU is 35-32 against OSU in Stillwater, including a 33-32 mark in Gallagher-Iba. ... Self is 14-9 all-time against his alma mater, including a 13-6 record at KU. Travis Ford is 3-9 versus KU.
More like this story on KUsports.com