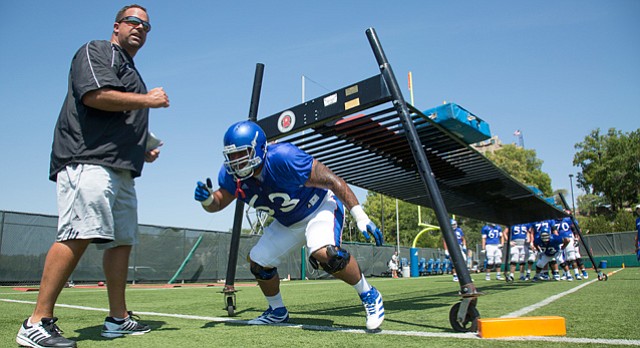 Former Kansas University offensive coordinator John Reagan, who served on two KU football staffs since 2005, has been named the offensive coordinator and offensive-line coach at Penn, the school announced Thursday.
Reagan spent the 1997 season at Penn before bouncing around to jobs at Akron, Air Force, Temple, KU and Rice during the next decade and a half.
Reagan returned to Kansas prior to the 2014 season after serving as the offensive coordinator at Rice but was let go by the KU administration after the end of a season that included the firing of former KU coach Charlie Weis. Interim coach Clint Bowen led the program for the final eight games of the year.
"I am extremely pleased to bring John back to Penn," Penn coach Ray Priore said in a news release. "I have been able to follow all of his accomplishments since his last tenure at Penn, and he returns with an impressive track record of success. He has an abundance of experience at the highest level, and I could not be more excited to add him to this coaching staff."
Reagan told the Journal-World earlier this week that he was excited about the chance to continue working as an offensive coordinator and added in the news release that doing it at Penn was icing on the cake.
"Penn football has always had such great support from alums and the university," Reagan said. "And I've always liked the model of the Ivy League. It truly is about the student-athlete and preparing kids to be successful on the field and in life. This was a great opportunity and I can't wait to get started."
Reagan becomes the fifth former assistant of Weis' at Kansas to land a full-time assistant coaching job. He joins Bowen and Reggie Mitchell, who were retained by new KU coach David Beaty, and former KU defensive line coach Buddy Wyatt, who recently was hired by first-year coach Chad Morris at SMU.
Former KU wide receivers coach and recruiting coordinator Rob Ianello, who was replaced by Eric Kiesau before the 2014 season, was hired at Buffalo as the Bulls' as associate head coach, recruiting coordinator and receivers coach this offseason.