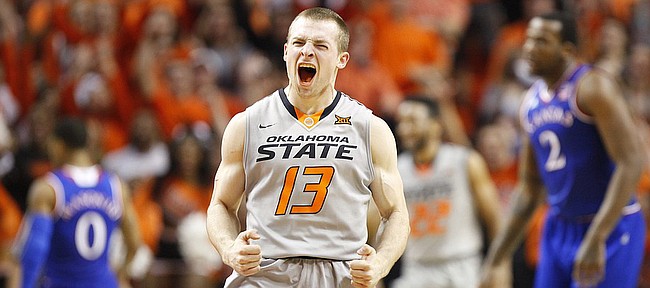 STILLWATER, OKLA. — Although the Cowboys stayed in the locker room at halftime for about 10 minutes, a 30-second message from Oklahoma State coach Travis Ford was all the Oklahoma State men's basketball team needed to turn an 11-point deficit at the break into a 67-62 victory over No. 8 Kansas University.
"When we came in at halftime, Coach Ford just said, 'Forget it,'" recalled OSU senior Le'Bryan Nash. "'Every time we make a basket, we're pressing.'"
Nash, who led all scorers with 18 points and was dubbed the best player in the game by KU coach Bill Self, said the Cowboys had talked all week about pressing Kansas (19-4 overall, 8-2 Big 12) and added that he believed OSU could "press them all day."
Photo Gallery
Kansas basketball v. Oklahoma State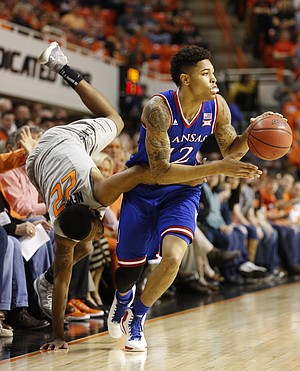 Images from Saturday's game between the Jayhawks and Cowboys at Gallagher-Iba Arena in Stillwater, Oklahoma.
Podcast episode
KU coach Bill Self says sluggish start to 2nd half killed Kansas in 67-62 loss at Oklahoma State.
Podcast episode
Kansas University basketball players Wayne Selden and Perry Ellis explain how the Oklahoma State press bothered Kansas during Saturday's 67-62 loss in Stillwater.
OKLAHOMA STATE 67, KANSAS 62
But Ford, who had to juggle foul trouble, his regular rotation, wear and tear and the circumstances of the game, was not as willing to unleash the press from the opening tip because he did not want to wear his players down.
That all changed after KU scored 41 points, shot 57 percent and drained seven of nine three-pointers in the first half. Nash made sure of it.
"We were asking coach Ford to put it in," Nash said of the press. "And he was trying to make sure fatigue was good for us and we just told him, 'Bring it on. We don't care. We want to win this game.'"
With the adjustment clearly communicated and the Cowboys' 11-point deficit providing a glimmer of hope, considering they felt they should have been down by 20, Ford reminded his team of the tweak one final time.
"I told the guys right before we went on the court to start the second half, 'The press needs to be a difference-maker. The press has to change the game,'" Ford said. "And I thought it did."
And the ways in which Oklahoma State's full-court pressure changed things went beyond forcing KU to turn the ball over, which the Jayhawks did 18 times in the game.
"It was more about us than them," Ford said. "We did turn them over some and sped them up but it got us in attack mode and I thought we were more aggressive."
OSU's 14-0 run to open the second half followed a Wayne Selden Jr. free throw and took just 3:31. Although the Jayhawks quickly tied the game at 44 and again at 49, Kansas never led after that.
"I thought we'd make a run," Ford said. "But we got back into it a little quicker than we thought."
Saturday's victory capped a memorable week for the Cowboys (16-7, 6-5), who defeated Texas in overtime on the road three days before topping Kansas. Still, as sweet as that win over the Longhorns was, both Ford and Nash said there's just something extra special about beating Kansas, which Ford has done more times (4) than any other coach since the 2008-09 season.
"That makes me smile a lot," Nash said. "When you play the best team in the Big 12, you always want to prove you can compete with them and, every year, this is the game that we circle on our calendar. We want to prove that we're better than them every year."
Added Ford: "It was a good win because of the respect we have for Kansas. Period. Against one of the better teams in the country. It was very gratifying."
---
More news and notes from Kansas at Oklahoma State
More like this story on KUsports.com