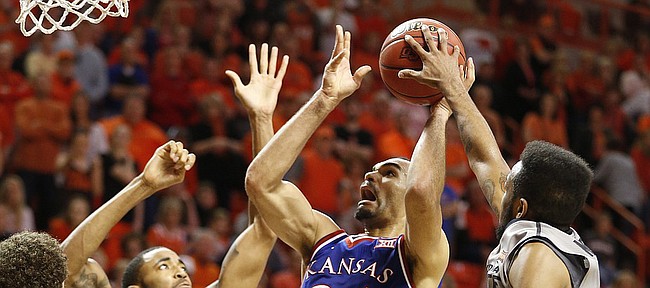 Stillwater, Olka. — The road to the Big 12 title runs through Lawrence, so many supporters of Kansas University basketball team are so proud of saying so frequently.
Think about it, though. It's the toughness and talent required to win when the Jayhawks hit the road out of Lawrence that has been the key to winning 10 consecutive Big 12 titles.
So far, so-so in seven true road games for Kansas. After falling from 14 points ahead and losing to Oklahoma State, 67-62, in front of 10,399, many of whom stormed the Gallagher-Iba Arena floor in celebration of another so-called upset against Kansas.
Photo Gallery
Kansas basketball v. Oklahoma State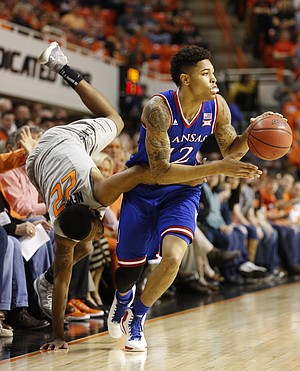 Images from Saturday's game between the Jayhawks and Cowboys at Gallagher-Iba Arena in Stillwater, Oklahoma.
Podcast episode
KU coach Bill Self says sluggish start to 2nd half killed Kansas in 67-62 loss at Oklahoma State.
Podcast episode
Kansas University basketball players Wayne Selden and Perry Ellis explain how the Oklahoma State press bothered Kansas during Saturday's 67-62 loss in Stillwater.
OKLAHOMA STATE 67, KANSAS 62
Winning on the road requires having the toughness to finish shots through contact on plays that draw a whistle at home, but not on the road. It demands silencing the crowd with a string of aggressive plays when the home team's on a roll. It means bouncing off the ropes when getting pummeled, moving the fight to the center of the ring and steadily backing the home team onto the ropes near another corner of the ring.
Kansas did none of that Saturday and its record in true road games dropped to 4-3 overall, 3-2 in the Big 12.
The seeds of trouble for Kansas were planted in a first half in which both teams attempted nine three-point shots. Kansas made seven, Oklahoma State none, a 21-point swing, yet Kansas led by 11, not 21, thanks largely to 11 turnovers on the way to 18 for the game. Inside the arc, where shots are contested, Kansas made just 11 field goals in the game and shot .333.
Really good road teams know how to take the venom of the enemy crowd and unfriendly whistles, even a phantom technical, and convert them to us-against-the-world fuel. Road warriors figure out how to scale all those hurdles. Consistently. That doesn't mean they always win, nobody does. It means they find a way to play with what coach Bill Self called, "competitive attitude," a word-combination he used to describe what disappointed him most.
This Kansas team, not as mature as many, doesn't seem to fully realize that the word Kansas stripped across the chest does not make an opposing team or crowd wilt. Instead, it emboldens them.
Double-digit deficits don't startle KU opponents. You play KU, chances are good that at some point you're going to trail by double digits. The Cowboys seemed to look at it as getting the inevitable out of the way and then getting to work.
An emotional Allen Fieldhouse victory such as Monday's vs. Iowa State can drive so much worship into the ears that it can make the critical lessons taught in practice during the week more difficult to hear.
Might Kansas coach Bill Self have seen this coming?
"I don't know if I saw it coming, per se," Self said. "They were good, so if I say we were really bad, it takes away from them being good, which I shouldn't do that, so I'm not going to. But we certainly didn't play the way we have played in prior games, with the energy or with the intellect or the paying attention to scouting report that we didn't do today. We've been better than that."
Including on another school's home court. KU won at Georgetown, Baylor, Texas and TCU and the first three came against talented opponents. The combined margin of victory is 22 points in the four true road games. The combined margin of loss in the three true road games is 35 points, including a 25-point setback at Temple. Kansas is far better now than before Christmas, but it doesn't yet have the road thing down.
---
More news and notes from Kansas at Oklahoma State
More like this story on KUsports.com