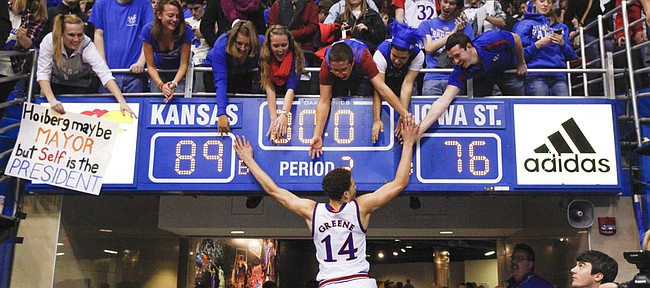 With nine games left in the regular season and anywhere between two and nine to play in the postseason, Brannen Greene is on pace to become the top single-season three-point shooter — percentagewise — in Kansas University basketball history.
"It's ridiculous how well he can shoot the ball," KU freshman Cliff Alexander said of Greene, a 6-foot-7, 215-pound sophomore guard from Juliette, Georgia, who has cashed 29 of 57 threes for 50.9 percent. Kirk Hinrich hit a school-record 50.5 percent from three in 2001 and Aaron Miles 50 percent in 2005.
"I've never seen a guy shoot the ball so well," Alexander added of practice and games.
Greene has made 12 of his last 16 threes over five games. He has made 15 of 24 in nine Big 12 games for a league-leading 62.5 percent mark. Oklahoma's Isaiah Cousins has cashed 19 of 39 for 48.7 percent.
"It's a pretty good percentage to have right now. Hopefully I can keep it going," said Greene, who has been awarded double-digit minutes the last five games.
"I've always been confident. Definitely getting more minutes and playing well boosts your confidence, so yeah, I'd agree," Greene added of a reporter's assertion that increased minutes may have helped his confidence on the court.
Overall, he's averaged 6.2 points a game off 50 percent shooting while logging 14.0 minutes per contest.
"Regardless if Brannen's stats are 40 percent or 50 percent or 60 percent, the guy can really shoot the ball," KU coach Bill Self said. "He's probably as good a shooter as we've had since I've been here. Maybe from a percentage standpoint, you could say Rush, (Brandon, 47.2 percent from three in 2006), maybe Tyrel (Reed, 47.3 in 2010). I think Brady (Morningstar, 42.0 overall in 2009) led the league in three-point shooting one year. But to me, Brannen makes real shots. He jumps up and just shoots the ball, and shoots it with confidence," Self added.
Greene said Self allows him to fire away "as long as it's in the flow of the offense. His main thing is get the easiest shots. Sometimes me shooting a long three is our best chance at that point. Wherever the shot clock may be, certain parts of the game, certain times of the game.
"Just within rhythm without having it to be rushed or there being a man in your face. That's basically a good shot," Greene added. "Sometimes a good shot is being contested. It depends where you are in the game and what the situation is."
Of his range, he said ... "from where I shoot in the game, I'd probably say around 25 (feet). I can shoot farther back than that. In the game, I probably won't shoot very much farther back than that."
Greene conceded the high release on his jumper is by design.
"It's just something I developed. I worked with my dad when I was younger," he said of former Pittsburg State standout Jeffrey Greene. "Repetition, repetition, getting elevation, shooting it where they can't block it. It just dates back to my earlier days."
Greene, who said he follows the exploits of sharpshooters like freshman Devin Booker of Kentucky (48.2 percent from three) noted, "I pay attention to players, per-iod.
I hear (comparisons to) Klay Thompson a lot," Greene added of the 6-7 Golden State wing, who is an NBA all-star. "I watch basketball. I don't necessarily watch shooters. I'm trying to expand my game period. I'm still young. I'm still a sophomore in college."
Talking threes: KU is first in the Big 12 in three-point field goal percentage (39.6). KU has hit a league-leading 40.1 percent to Baylor's 39.5 in Big 12 games only.
KU is second in threes made (7.0 per game to Baylor's 7.3) in league games only. In all games, KU is fifth in threes made at 6.59 per game.
Soph Wayne Selden Jr. has made eight of his last 13 threes over the past two games. For the year, he's hit 35 of 88 for 39.8 percent.
"His mom came to town. He got a new haircut. There are really a lot of important intangibles going on why he shot it well," Self said of the last two games. "Hopefully he's on an uptick. We're a different team when Wayne plays like that. He was really good. He's guarding better."
Friends: Greene spoke of the harmony on this year's team.
"With us, we all respect each other. We all want to see each other do well, because not only does it help that person, it helps us as a team," Greene said. "I genuinely want Kelly (Oubre Jr.) and Wayne (Selden Jr.) and those guys who play my position to do well. They all feel the same. We care about each other. It feels a lot different from last year. We hang around more. We joke with each other. We're just more comfortable taking shots at each other knowing it's positive to help the other player. Everybody is unselfish. We just want to win."
Self said: "I think they're genuinely happy with each other. They like each other. They want each other to be successful."
Little practices: Former KU guard Mario Little, who released by Oklahoma City Blue of the NBA Developmental League on Jan. 24, practiced with the Jayhawks on Thursday. Next up for Little may be a spot overseas. He has yet to sign with a team.
Anderson leaves Fresno team: Former KU signee Braeden Anderson, a red-shirt sophomore at Fresno State, is giving up basketball, the Fresno Bee reports. He wants to graduate this spring and go to law school in the fall. Anderson averaged 1.0 points and 1.8 rebounds in 17 games this season. He made a successful comeback from career-threatening injuries suffered in an auto accident before the 2013-14 season.
Anderson signed with KU in 2011 but was deemed a partial qualifier by the NCAA. Because of Big 12 Conference policy, all partial qualifiers must be approved by the league's faculty athletic representatives. Anderson's case was not approved for aid. Therefore, he did not attend KU.
More like this story on KUsports.com