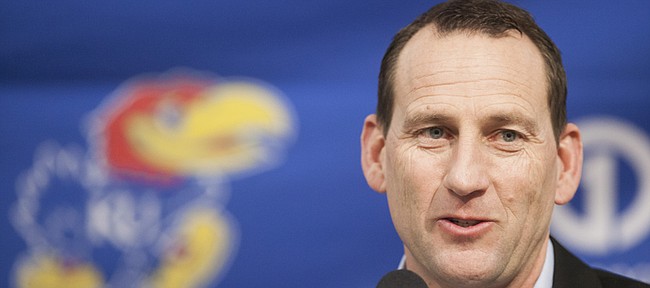 It did not take long to recognize the genuine excitement that first-year Kansas University football coach David Beaty carried with him into Wednesday's signing-day news conference inside Mrkonic Auditorium at the Anderson Family Football Complex.
Sure, part of his wide-eyed adrenaline was the result of a signing day gone smoothly. And the combination of sleep deprivation and any number of caffeinated beverages might have played a role as well. But there was no disputing that the 17 players who signed their national letters of intent Wednesday morning — which brought the total in Beaty's first recruiting class to 24 — had the first-year KU coach more fired up than ever about the future of Kansas football.
"When I put a smile on my face today, it's because I'm truly excited about these guys," Beaty said early during the question-and-answer portion of Wednesday's media session. "I mean, we have got some really good football players here."
Class breakdown
Rivals.com rank: 64
24/7 Sports rank: 72
Total signees: 24
High school players: 17
Junior college players: 7
From Texas: 17
From Kansas 2
Michigan, Georgia, Florida, Illinois, Oklahoma: 1 each
Defensive backs: 7
Offensive linemen: 5
Wide receivers: 4
Defensive linemen: 2
Running backs: 2
Quarterbacks: 2
Linebackers: 1
Tight ends: 1
Just who those players are and how long it will take them to emerge remains to be seen and certainly is not a given. But Beaty, who talked in detail about each athlete in the 2015 class while their highlights rolled on video screens behind him, clearly had his own take on which guys will help the Jayhawks the most quickly.
Safety Denzel Feaster, defensive end Dorance Armstrong, wide receivers Chase Harrell and Steven Sims and all of the program's new cornerbacks earned special praise.
But there was no escaping that Beaty came away from a wild and crazy six weeks on the recruiting trail feeling pretty good about all of the players he and his coaching staff were able to corral.
Some they got because the player had limited offers. Others they had to fight off higher-profile schools to keep. And still others were diamonds in the rough, whom the KU coaches stumbled upon by chance and went after with intensity.
Regardless of what led them to their seat at the table with a letter of intent to Kansas staring up at them, Beaty said the class had one important thing in common.
"Every one of these kids, before I walked out of their living room, I made sure they wanted to be here as bad as I want to be here," he said.
Never was the desire to become Jayhawks by the athletes in the current class more clear than early Wednesday morning, when all 17 guys who made their commitments official had their letters signed, sealed and delivered to the KU football offices within an hour of the official starting time of 7 a.m. Such a pace is unprecedented at Kansas, as the coaches in the past typically waited until at least noon and sometimes longer to receive the final letters.
Did the rapid return rate signal a deeper level of commitment from this year's class compared to previous groups?
"I would love to say that that's the main reason," Beaty said. "But I think technology (texting a photo of the letter of intent) has a lot to do with it. That old fax machine, the old paper feed, that would cause a lot of problems on a day like today. We were done (and) looking at each other by 7:45. That's not normal."
Twelve hours later, Beaty and his coaching staff were at Abe & Jake's for a fan-friendly signing-day party. The snow and cold weather took a toll on the head count, but those KU fans who did show up were greeted by a coaching staff that displayed genuine camaraderie and great pride about the class they were able to cobble together.
No matter how much each assistant coach gushed about his excitement over this player or that, each one, like Beaty, made sure to emphasize that, while getting a class you can be proud of is great, it means next to nothing if you don't follow it up with good, old-fashioned development.
The potential to develop Wednesday's signees is one thing the coaching staff likes about KU's 2015 class. And, newcomers or not, they're all going to get the chance to prove they can play.
"It's no longer about what anybody says. It's about what you do," Beaty said. "We're gonna go by who's the best. And that's easy to see. Everybody on our football team is gonna have an opportunity. Everybody. And they're only as good as their next day, their next practice, their next rep, and that's how we're gonna get this deal done."
Kansas' class of 2015
DE Dorance Armstrong – 6-4, 225, 3 stars, North Shore High, Galena Park, Texas
DB Shola Ayinde – 6-0, 168, 2 stars, George Ranch High, Richmond, Texas
OL D'Andre Banks – 6-3, 325, 3 stars, Trinity Valley CC
DB Bazie Bates IV – 6-1, 190, 3 stars, Trinity Valley CC
WR Jeremiah Booker – 6-3, 187, 2 stars, College Station (Texas) High
DL Jacky Dezir – 6-1, 300, 2 stars, College of DuPage
DB Denzel Feaster – 6-3, 195, 2 stars, Manor High, Austin, Texas
OL Aaron Garza – 6-2, 287, 3 stars, Sherman (Texas) High
WR Chase Harrell – 6-4, 205, 2 stars, Hargrave High, Huffman, Texas
RB Ke'aun Kinner – 5-9, 185, 3 stars, Navarro College
RB Taylor Martin – 5-10, 180, 2 stars, Dunbar High, Fort Worth, Texas
OL Clyde McCauley – 6-5, 275, 2 stars, Bowie High, Arlington, Texas
DB Tyrone Miller – 6-0, 178, 2 stars, Saline (Michigan) High
WR Emmanuel Moore – 6-0, 190, 2 stars, Northwest High, Justin, Texas
LB Osaze Ogbebor — 6-1, 210, 2 stars, Heritage High, Frisco, Texas
DB Marnez Ogletree – 5-10, 190, 2 starts, Fullerton College
OL Jayson Rhodes – 6-4, 285, 2 stars, Blinn College
DB Shaq Richmond – 6-0, 180, 3 stars, Timberview High, Arlington, Texas
WR Steven Sims – 5-10, 165, 2 stars, Travis High, Richmond, Texas
OL Will Smith – 6-3, 315, 3 stars, Butler Community College
QB Carter Stanley – 6-2, 188, Vero Beach (Florida) High
TE Jace Sternberger – 6-4, 225, 2 stars Kingfisher (Oklahoma) High
DB Brandon Stewart – 6-0, 175, 3 stars, Trinity Valley CC
QB Ryan Willis – 6-4, 201, 3 stars, Bishop Miege High
All star ratings from Rivals.com