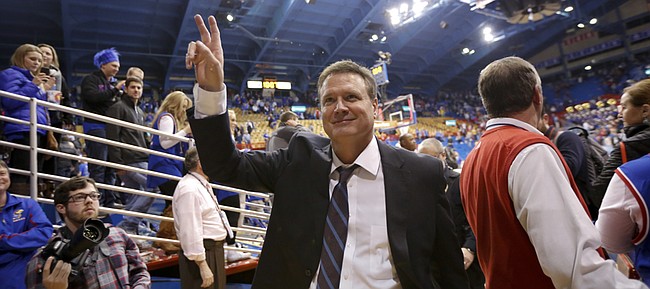 It's never too early for college basketball analysts and fans to discuss the NCAA Tournament and Final Four.
Thus, ESPN this week asked eight experts to identify 12 teams they would be "least surprised to reach the Final Four."
Twenty one teams were named, including the Kansas Jayhawks (19-3, 8-1), selected on 100 percent of the ballots.
"I would not be surprised to see the Jayhawks reach the Final Four because the Jayhawks are starting to come together," ESPN's Jeff Goodman wrote. "KU has played an extremely difficult schedule, and Bill Self's team has only three losses. There may not be a bona fide star on the roster, but there is more than enough to win four games come March."
Other teams named on 100 percent of the ballots: Arizona, Gonzaga, Kentucky and Wisconsin. Teams named on more than 50 percent of ballots: Duke, Virginia, Notre Dame, Villanova, Louisville and North Carolina. Teams named on fewer than 50 percent of the ballots: Iowa State, Utah, Ohio State, Stanford, West Virginia. Teams named on one ballot: Georgetown, Indiana, Oklahoma, SMU and Wichita State.
The panel consisted of: Jay Bilas, Dan Dakich, Sean Farnham, Fran Fraschilla, John Gasaway, Goodman, Seth Greenberg and Joe Lunardi. To read the story at ESPN Insider go to http://ljw.bz/1xm6giO.
UK again?: Self spoke about a possible KU-Kentucky rematch. UK drilled KU, 72-40, on Nov. 18 in Indianapolis.
"We didn't play smart. A lot of that's on me," Self said Tuesday on (Andy) "Katz's Korner" on ESPN. "We didn't want to shy away from their size. We probably made too big a point to try to drive to shoot as opposed to drive to pass. I think that's something you have to do.
"With any great team that protects the rim so well, it's great to challenge and you can't back away from that, but you can challenge by being a passer and not just a shooter or a scorer. We didn't do that at all the first time. Hopefully we'd be better at that. Even with that being said, if they play that day, you could play very well but still they'd be very difficult to beat."
Big games: ESPN's Goodman has compiled a list of the 20 biggest games in February and early March.
He includes KU at West Virginia on Feb. 16, KU at Kansas State on Feb. 23 and KU at Oklahoma on March 7.
Of the West Virginia game, he wrote: "The Jayhawks travel to the unfriendly confines of Morgantown and will face a Bob Huggins team that keeps coming on the defensive end. West Virginia is only two back from KU in the loss column."
Of the KSU game, he wrote: "It's another huge in-state rivalry game. K-State had a dismal nonconference slate, but a win over the Jayhawks could give Bruce Weber's team some hope of sneaking into the NCAA tourney."
And of the OU game, he wrote: "It's still too early to say what, if anything, this one means. But depending on what happens over the next month or so, it could have a major bearing on whether the Jayhawks continue 'The Streak' (10 consecutive Big 12 regular-season titles)."
To read Goodman's story go to http://ljw.bz/1xm6Kp4
Maker may reclassify: Thon Maker, a 7-foot center from Orangeville Prep in Ontario who is the No. 1-ranked player in the recruiting Class of 2016 by Rivals.com, will decide next week whether he'll be reclassifying to the Class of 2015, Zagsblog.com reports.
Maker's guardian, Ed Smith, said Maker finished his classes a week ago.
Smith has said Maker will visit KU and Kentucky if he reclassifies and possibly other schools as well.
Smith told Zagsblog he will ask NCAA officials if Maker is a likely candidate to make it through the NCAA clearinghouse. If he's deemed a likely nonqualifier, he'd likely play in China or Europe a year before the NBA Draft, Smith told Zagsblog.
Newman decides on five: Malik Newman, a 6-3 senior shooting guard from Callaway High in Jackson, Mississippi, who is ranked No. 3 in the Class of 2015 by Rivals.com, tells ESPN's Reggie Rankin he will visit KU, Kentucky, North Carolina State, LSU and Ohio State. It's expected he will wait until April to commit to a school.
More like this story on KUsports.com