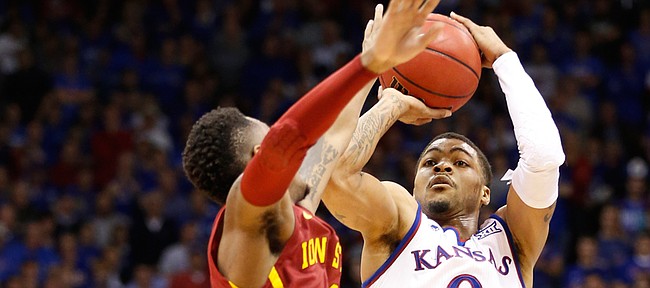 Exhibiting consistency his sophomore season, Kansas University point guard Frank Mason III has scored in double figures in 19 consecutive games.
Thomas Robinson and Marcus Morris hold the longest scoring streaks of 10 or more points in the Bill Self era at 27 games.
"I wouldn't say I keep my eye on it," Mason, a 5-foot-11, 185-pounder, said of his scoring exploits. "I just try to do everything to help my team win.
"I'm not surprised at all. It's a great accomplishment, but I'm just proud of my teammates and just happy we're winning," Mason added after collecting 12 points and eight assists against two turnovers while playing 37 minutes in Monday's 89-76 victory over Iowa State in Allen Fieldhouse.
Mason was focused on slowing ISU point guard Monté Morris, who scored 12 points with five assists against four turnovers in 35 minutes. Morris had 11 points, 10 assists and two turnovers in ISU's 86-81 win over KU on Jan 17 in Ames. Mason scored 21 points, with three assists, three turnovers in that loss.
Was Mason better prepared for the rematch?
"I would say so," Mason said. "Playing against him the first time in Ames, watching tape on him, seeing him on TV when they play any other team, seeing things he does (helps).
guard. The team goes as far as he goes."
"He leads the country in assist-to-turnover ratio. He's a pretty good point
Of his own performance Monday, Mason said: "I think I got in the lane, created easy shots for my teammates. They just knocked them down (shooting 50.8 percent for game, including 10 of 21 from three).
Mason, who is KU's second-leading scorer at 12.7 ppg (right behind Perry Ellis' 13.0 mark), said his goal every night is "getting in the lane, creating easy shots for my teammates, getting out in transition, getting easy baskets and being a good defender."
Self applauded Mason's performance on Tuesday's "Hawk Talk" radio show.
"If you watched last night, Monté Morris ... some say he's under consideration as a first-team All-America player," Self said. "He has a 5:1 assist-to-turnover ratio (118 assists, 26 turnovers). He's shooting a good percentage (49.7), averages 11.1 a game (scoring) and two steals a game. He does about everything. We thought one of the biggest keys was having Frank pressure him. If you pressure him, we can go under ball screens as opposed to over if you do not pressure him. That guy (Mason) tried to do it right every time. I think sometimes when you compete and play like he does, that many minutes (33.4 per game), you do make some poor decisions. For the most part, he's been right on point."
Self added: "The little guy is tough as nails. I thought he played very well last night. He's had an unbelievable year, been unbelievably consistent. He's had a great season. As well as he's played, I think there's a big step he can make and play even a lot better."
Bumps, bruises: Self said Ellis, who fell hard on his shoulder in taking a charge Monday, is "fine, just sore."
Two-game margin: KU (8-1) has a two-game lead in the Big 12 standings over West Virginia (6-3) and Iowa State (6-3) after Oklahoma's victory over West Virginia on Tuesday night. OU is 6-4.
KU is shooting for its 11th straight league title. UCLA won 13 in a row in the Pac-10 from 1967-79. Gonzaga won 11 straight from 2001-11. UConn and UNLV once won 10 league titles in a row.
ESPN's Myron Medcalf addressed the amazing streak in his blog Tuesday. "It's the most marvelous feat in college basketball right now — other than Mike Krzyzewski's 1,000-plus wins.
"The latter mark is extraordinary and it's difficult to compare anything to it. Records involve numbers. Coach K's achievement has an aura. In recent weeks, there have been conversations about who, if anyone, will ever catch Krzyzewski. Self would have to coach a long time to match Coach K. He has 551 career wins after Monday's victory over Iowa State. He could get to 1,000 simply by winning 30 games over the next 14 or 15 seasons.
"That's how breathtaking Coach K's legacy has been for the past 30 years.
"But if we're just talking about conference preeminence, no coach has equaled Self's mastery of a single league. Not even Coach K, whose best streak is five in a row. That should take your breath away, too," Medcalf added.