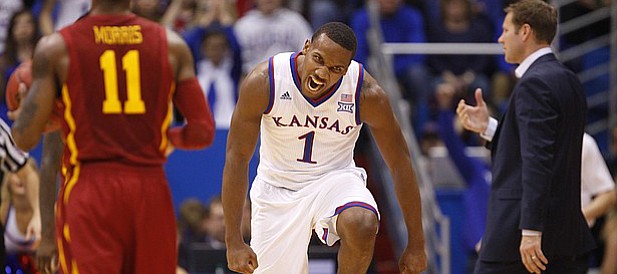 Wayne Selden Jr. and his Kansas University basketball teammates have tried to follow the age-old "one-game-at-a-time" mantra since the Jayhawks' five-point loss against Iowa State on Jan. 17 in Ames, Iowa.
Easier said than done.
"It was a lot on our mind because we were so worried about last game. We thought about the last game so much. It's been haunting us ever since it happened," Selden said after helping (19-3, 8-1) KU gain revenge on the (16-5, 6-3) Cyclones, 89-76, on Monday night in Allen Fieldhouse.
Photo Gallery
Kansas basketball v. Iowa State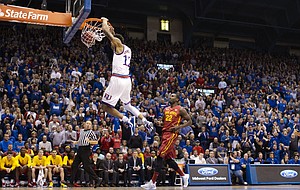 Images from Monday night's game between the Jayhawks and Cyclones at Allen Fieldhouse.
Podcast episode
Kansas basketball coach Bill Self discusses the excitement of facing and beating Iowa State on Big Monday, and the depth of his KU team, adding he considers KU's rotations players as a group of "eight starters."
Podcast episode
Kansas basketball players Wayne Selden Jr., Kelly Oubre Jr. and Perry Ellis field questions from the media following the Jayhawks' 89-76 Big Monday home win over Iowa State, a team that defeated KU 16 days earlier.
KANSAS 89, IOWA STATE 76
His career-high tying five threes and team-leading 20 points fueled the redeeming victory.
"We just kept thinking about it, thinking about it (first meeting). Even when we were playing other teams we'd get away from it because we were really looking forward to this one," said Selden, who had just one point in nine minutes the first half.
Things didn't appear promising for the 6-foot-5 sophomore from Roxbury, Massachusetts when coach Bill Self hooked him for committing a turnover early in the second half. Selden returned after Brannen Greene (11 points, seven the first half in helping KU to a 35-28 lead) committed a mistake with the ball.
Selden finished the final half with 19 points off 7-of-9 shooting — five of six from beyond the arc in his 19-minute final-session stint.
"They outplayed us the first time. We were better tonight," Selden said simply, crediting his offensive explosion to his teammates.
"My teammates saw me. Kelly (Oubre Jr., 16 points, five boards, three assists) and Perry (Ellis (17 points, six boards, four assists) both found me," Selden said.
Selden's 20-point outing was his finest in Big 12 play this season. He entered having scored in double figures in just two of eight games. His season high is 21 points in a home win over Florida and career high 24 against Oklahoma on Jan. 8, 2014. He had five threes in that game.
"Wayne was really excited in the locker room. I'm happy for him," KU sophomore guard Frank Mason III said after scoring 12 points with eight assists and five rebounds, just two turnovers in 37 minutes.
"It will help his confidence because he hadn't been shooting it that well. It was great to see him play like that, great for us to win the game," Mason added.
KU coach Bill Self — his Jayhawks lead West Virginia by one game and Iowa State by two in the Big 12 standings — said Selden's performance was pivotal.
"He was so good and it's so good to see a guy who cares so much play that well," Self said. "It's been up and down for him offensively. He's kept a great attitude. Certainly we need him."
Selden entered the game a 34.4 percent shooter, 37.0 percent from three. He did hit three of six threes in a win over Kansas State on Saturday, good for 14 points, his previous high in a Big 12 game this season before Monday.
"I've remained confident," Selden said, indicating, "you always think it's going to go in."
Selden, who attended the same prep school as ISU's Georges Niang (24 points, six boards), said the Jayhawks, "weren't thinking about the Big 12 race at all before the game. It was more so the loss at Ames, what we did wrong there. The biggest thing was transition buckets. We tried to eliminate them as much as we could."
The Jayhawks ran stride for stride with the Cyclones this time. Greene and Oubre hit two threes apiece and Ellis one in a 20-6 run that turned an 18-11 deficit into a 31-24 lead late in the first half.
KU led, 41-32, in the second half when Selden exploded for eight straight points for KU. He hit two threes and a deep two to help the Jayhawks to a 49-34 advantage with 15:15 left.
ISU did cut it to nine (54-45) at 11:23. However, Selden hit a three to go with two points apiece from Mason and Oubre to immediately right the ship to 61-45 at 9:13. KU led by as many as 19 the second half (with 6:50 left).
"I think us and Iowa State have developed a pretty nice rivalry," Self said. "We were focused to play up there, they were just better than us. They were focused here. We were better tonight.
"The competitive juices get flowing after you've played someone and for whatever reason they made you look silly or outperformed you. There's talk in the media about the league race. That was never mentioned once. The chance to play a team that whipped us the first time we played (was the focus). Our guys have a unique respect for Iowa State in part because Wayne and George were teammates. It's a healthy competitive deal. They (Jayhawks) knew. That would have been three losses in a row (to ISU) if we didn't take care of business tonight."
And about that Selden ... "You get 20 in a half (19), it'll help your confidence. He had a goose-egg the first half, second half was five of six from three. That's huge," Self said. "You can't bank on guys shooting like that. Going into the game we were thinking if we could match them at the three-point line it'd be positive. TO make three more in the same amount of attempts (KU was 10 of 21; ISU 7 of 21) was big for us. Wayne was terrific. Brannen made some shots (2-3 from three) and Kelly some shots (2-6 from three) the first half."
KU will next meet Oklahoma State at 1 p.m., Saturday, in Stillwater, Oklahoma.
---
More news and notes from Kansas vs. Iowa State
More like this story on KUsports.com