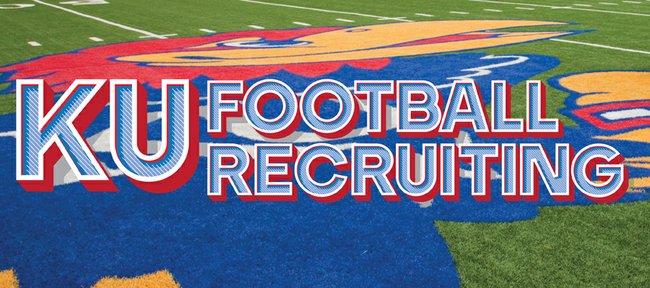 Wednesday was supposed to be the day with all of the national signing day buzz, but the Kansas University football program got its fun started Tuesday, when Huffman, Texas, wide receiver Chase Harrell joined the Jayhawks earlier than expected.
Huffman, a two-star prospect from Hargrave High, graduated early and enrolled in KU in time for the spring semester. That will allow the 6-foot-4, 205-pound wideout to participate in spring practices and get a jump on learning KU's new offense.
"I am so happy to be able to get to Kansas this spring," Harrell said in a press release. "I want to be able to contribute immediately this fall and being here for spring practice will definitely help prepare me for that. Having the opportunity to learn the offense and get acclimated to school will give me a huge advantage."
Harrell was a standout wide receiver at Hargrave under head coach Mike McEachern. He earned four letters at HHS, taking home Offensive Most Valuable Player honors in Class 4A District 10 after helping lead the Falcons to a 9-2 mark. The rangy receiver who committed to KU in December over offers from Houston and Kentucky recorded 103 receptions for 1,741 yards and 19 touchdowns as a senior, on his way to being named Class 4A honorable mention all-state by the Associated Press.
He also recorded 47 catches for 873 yards and 17 touchdowns as a sophomore in 2012 and missed his junior campaign because to an injury. KU's newest wide receiver also lettered in basketball and track at Hargrave HS.
Harrell becomes the ninth player in the Class of 2015 to sign with the Jayhawks, joining the eight mid-year transfers who signed back in December. Fifteen more prospects who have orally committed to KU are expected to join him by signing and sending their letters to the KU football offices on Wednesday morning.
As always, we'll be there bright and early to track all of KU's signing day action, so be sure to log on to the Tale of the Tait blog, which will be cranking well before 7 a.m. on Wednesday morning.