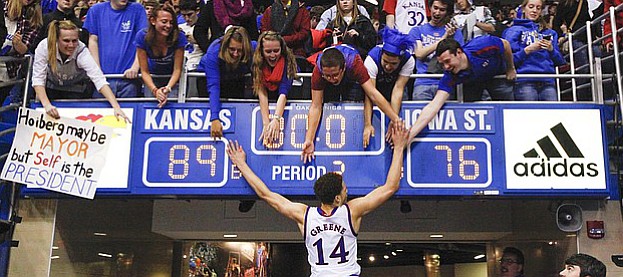 Everything about the night screamed big game in Allen Fieldhouse.
Long lines snaked from the entrances, waiting for the doors to swing open 90 minutes before tipoff.
George Brett, the greatest third baseman in baseball history, sat in the second row behind the home bench.
Big atmospheres bring out the best in big-time teams. Kansas University left no doubt that it fits that description in rolling Iowa State, 89-76, on a Big Monday night party.
Brett was not like so many NBA celebrities, not there in any way to be seen. He was there to see the two best college basketball teams from the region of the country that cheers for his Kansas City Royals. And he was there to support the home team. The Jayhawks gave him plenty of reason to do that.
Brett popped out of his seat clapping a mile a minute after Wayne Selden Jr. hit a three-pointer to cap a personal eight-point run that spanned 71 seconds and gave KU a 46-32 lead early in the second half.
The bench behind which Brett sat always had at least one of KU's three big wings sitting down, getting refreshed, before checking back in to bury three-pointers.
Selden, Kelly Oubre Jr. and Brannen Greene combined for 47 points in 73 minutes and made a combined nine of 16 three-pointers.
Other nights, small guards Frank Mason III and Devonté Graham play together for long stretches. Options are a nice thing to have, and Kansas coach Bill Self has them and knows how to use them.
"I look at our bench, and I see eight starters, and any of them can play 25, 30 minutes," Self said after his team improved to 19-3 overall and 8-1 in the Big 12.
All eight had the proper motivation for Monday night's game. They sought revenge and remembered clearly why they lost to Iowa State in Ames. They lost because they didn't get back on defense. So, naturally, Iowa State didn't have a fast-break bucket the entire first half.
Kansas maintained a whatever-you-can-do, we-can-do-better attitude throughout, answering challenge after challenge.
"They scored, what, 30 points in transition in Ames?" Oubre said. "Coach kept drilling that in our heads, so we made sure to get back."
KU had an early drought that didn't matter because it defended so well, and Greene again came off the bench to close the gap. Nobody played better than Selden, which had not been the case much this season.
"He needed that because he's been such a great teammate this year, and he hasn't even performed to the level that can yet," Oubre said of Selden's 20-point night. "That wasn't even the highest tonight because he has another gear. Tonight was a stepping stone that will help him continue to move forward and be a great player like I know he can be."
If Selden's season-long shooting woes frustrated him, Oubre said he didn't see it.
"Never, never," Oubre said. "I look up to Wayne so much because he has such a great attitude."
Kansas showed how potent it can be from the perimeter, starting with Greene, who made two of three threes, making him 12-of-16 from long range in the past five games. In the second half, Selden went off from long distance.
"That's the good thing about our team," Oubre said. "We have so many guys who can score, so many guys who can defend, so when we are on the court, it's pretty much like, 'My turn, your turn.' Whoever is on is whoever gets the ball because we just respect each other's game, and we know that each other can put the ball in the hole."
Midway through the Big 12 season, Kansas is shooting .396 overall from three and .401 in conference games.
"They're shooting it a lot better than they have," said Iowa State coach Fred Hoiberg, a voice of authority on long-range shooting.
---
More news and notes from Kansas vs. Iowa State
More like this story on KUsports.com