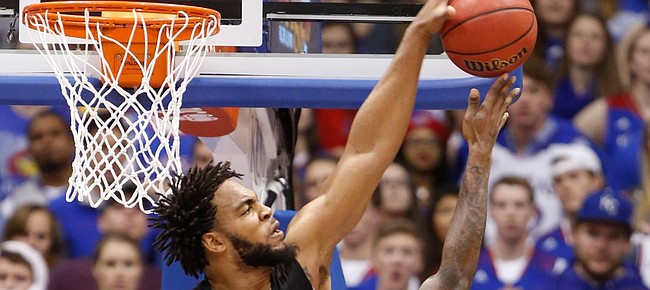 One of the cooler aspects of the Big 12 featuring even more loaded teams than usual is that it presents 11-time-defending league champion Kansas University with a legitimate problem nearly every night.
Saturday's puzzle to solve: How to defend Rico Gathers, Baylor's 6-foot-8, 275-pound block of power and underrated skill.
Gathers averages 14.1 points and 11 rebounds per game. He has an abundance of one quality the Kansas frontcourt lacks: Brute strength.
Podcast episode
With Big 12 play beginning Saturday, against Baylor, Kansas basketball coach Bill Self discusses KU's 11-year streak of winning at least a share of the regular-season title, describing why he thinks some people take it for granted. Self also shares his thoughts on talented Bears big man Rico Gathers, and ...
UC Irvine's 7-6 Mamadou Ndiaye presented a different sort of challenge, but one that also tested the strength of KU's frontcourt players. Gathers is a better basketball player even if he is nearly a foot shorter.
"Rico, he's an athlete," Kansas coach Bill Self said Thursday. "I mean, he's a guy, you know, you think that would be an NFL tight end. Great hands and is active and can move around and can run. I mean, he's a real athlete, where Mamadou, not taking anything away from him athletically, but he couldn't move like Rico. ... There's few guys in college basketball if any that rebound like Rico."
Kansas will find a way to defend Gathers without giving the assignment to Perry Ellis. Why putting Ellis in foul trouble or exhausting him to the point he's not effective at the other end?
Ellis' passing, driving, shooting and finishing after receiving passes from the short corner on cuts to the hoop make him an ideal candidate to play in the middle of KU's offense when Baylor plays zone, so the senior forward is an even bigger key to KU's success than usual.
So Kansas will hope that a combination of Landen Lucas' strength, Hunter Mickelson's length and Jamari Traylor's pesky energy will give Gathers enough different looks to keep him from dominating in the paint.
Kansas won all three games vs. Baylor last season by an average margin of seven points. Gathers averaged 12.7 points and 11.7 rebounds against the Jayhawks.
Nice numbers. For Kansas, strength in numbers will come in the form of multiple bodies.
"Kansas has more big guys that they can throw at our big guys," UC Irvine coach Russell Turner said after his team lost by 25 points in Allen Fieldouse. "I think that that wore us down, which is good strategy for a team that has the type of depth Kansas has. Not many have that."
True. Not even in the Big 12, which so far has been the nation's deepest college basketball conference.
— Sports editor Tom Keegan appears on The Drive every Sunday night on WIBW-TV.
More like this story on KUsports.com