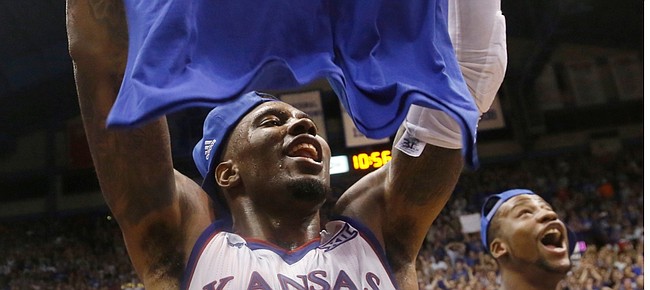 Kansas University's basketball players do not need to be reminded that on Saturday — when they tangle with Baylor in a 3 p.m., tip in Allen Fieldhouse — they begin defense of the program's 11th straight Big 12 regular-season title.
"It's something always on our mind — 11 straight. It's kind of you don't want to be that team to break the streak," said KU sophomore guard Devonté Graham.
He's 1-for-1 in Big 12 regular-season crowns, the 2014-15 Jayhawks prevailing by a game over both Iowa State and Oklahoma.
Podcast episode
With Big 12 play beginning Saturday, against Baylor, Kansas basketball coach Bill Self discusses KU's 11-year streak of winning at least a share of the regular-season title, describing why he thinks some people take it for granted. Self also shares his thoughts on talented Bears big man Rico Gathers, and ...
"We go out and play each game and hopefully it'll take care of itself," Graham said of taking No. 12 in a row.
KU enters this season tied with Gonzaga for second-longest run of conference championships in NCAA history. The Zags won 11 straight in West Coast Conference play from 2001-11. The Jayhawks are challenging UCLA, which won an all-time best 13 consecutive league titles in the Pac 10 from 1967 to 79.
Amazingly, KU coach Bill Self, who has 11 first-place finishes and one second at KU (to go with one national title and one runnerup finish), also won a league championship two of his three years at Illinois and two of three years at Tulsa.
Self said pursuit of No. 12 in a row figures to be "fun" as well as a "grind."
"I think people around here probably assume, but let me tell you something ... you win the league three times in a row in the Big Ten, it's not a big deal, it's a huge deal. You have somebody else in our league (Big 12) win it two or three times in a row, it's a big deal," Self said.
"I think it's taken for granted around here, which is rightfully so, because our guys have experienced quite a bit of success. It's a big deal to these kids to win a ring every year. As fans and coaches we get spoiled, because ... stop and think about it. A lot of programs you win three or four championships in a row there'd been parades. We won two in a row at Illinois. Jerrance (Howard, KU assistant and former Illini guard) will tell you 5,000 people were waiting for us at the airport when we got back after winning one in a row, just as many people after winning two in a row.
"At Kansas, no disrespect, we get a T-shirt and if we're lucky we get a hat. There's nothing wrong with that. It's because it's the norm, what is expected. Excellence is expected all the time. When you expect excellence all the time, there will be times you get shot down."
Locally, folks may have come to expect titles, since KU is the all-time leader in conference titles — 58 to Kentucky's 52. Penn is third with 37.
"I think nationally, it has not got the respect in a lot of ways that it deserves, but I also understand that that's — what gets most of the attention now is what you do in the postseason, as opposed to regular season, and I understand that," Self said.
"But what these players have done over time, and with so many different combinations and all those things in what is arguably as good a league as there is in the country, is pretty remarkable. I'm real proud of it, but the whole thing is, this will be the hardest year probably to defend it. Last year was a monster year to defend it. But I really think that this year there's more good teams our league has ever had, and when I say good teams, I mean teams that have a chance to be Final Four-type contenders."
Self credits his players and assistant coaches. As far as his role personally in the streak ...
"The thing that probably gives me the most satisfaction is that faces have changed but expectations and results haven't," Self said. "The kids, regardless of who you lost (to NBA and graduation), it's kind of 'next man up' and that mantra, they have delivered. I take great pride in the consistency, because it's hard," Self said.
The team has been to one additional Final Four since winning the NCAA crown in 2008, continuing to win league crowns each and every year.
"I remember, certainly, when we won it in 2008, I thought there would be no way that we would get complacent. But human nature just makes it that way. People are asking you to do fun things. Everybody's patting you on the back. Instead of being in the gym a week after the season, now it's three weeks after the season because you're worn out from doing all the other stuff. It's hard and now you understand why there's not that many repeats at the professional level and things like that," Self stated.
"Then you have rosters changing. I remember telling my assistants one time after that ('08), saying, 'Hey, guys, I think I'm letting you down. I hope you guys are working harder than I am because I spend my whole day doing stuff that doesn't have anything to do with winning.'
"Speaking engagements, appearances, opportunities to do certain things — you're still getting up and you're still going to the office for 12 hours a day — but you're not working on things that have anything to do with winning.
"I felt like, and I caught myself saying, 'I'm falling into the same thing that I know everybody else says you fall into but nobody ever believes it.' Fortunately for us, our players didn't do it.
"It would probably have been harder to have a great year after winning the national championship if all those kids returned. But all the starters are gone and now the new kids come in and now they have got to do what the other guys did, so there was an expectation level and they knew how hard they had to work to do it, so that was probably a blessing. At the time, we thought it was a curse. But the consistency is probably the thing that I'm most proud of."
The Jayhawks say they're ready to get their run for 12 in a row under way.
"I think we're all excited — the fans, coaches players, everyone is excited to get this Big 12 Conference started the right way," said junior guard Frank Mason III. "Hopefully we'll get a win. I know we'll be ready."
It doesn't get any easier after Saturday. Oklahoma, currently ranked No. 3 in the country, will visit KU for an 8 p.m., tip Monday.
"When you only have 10 teams and you play everybody twice, and you could have six or seven teams in the NCAA Tournament, you have to be your best every night, much like I think what you have to be in the NFL. In the NFL, if you don't play well, you lose and I think it's going to be that way in our league more so than ever," said Self, whose Jayhawks enter the league campaign having won or shared 15 of the 19 Big 12 regular-season titles.
"One thing that comes across through winning," he said, "is how special it is and the more you get the more you want."