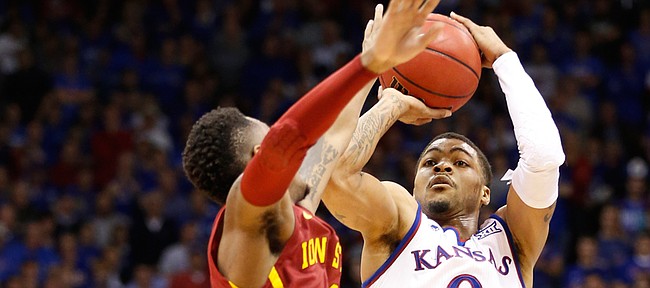 It's usually a tough sell convincing rabid fans of the Kansas University basketball program that RPI, a computer ranking on which members of the NCAA tournament selection committee rely way too heavily, is utter hogwash.
The RPI is weighted far too heavily upon strength of schedule and not enough on actual performance. Since Kansas regularly plays such a killer schedule, the RPI, with rare exceptions, ranks Kansas either just about right or too high.
Now that the Kansas fan base has more reason to be more open-minded, let me repeat it one more time: RPI stands for Really Poor Index.
Disagree?
Kansas, which will be ranked No. 1 in the nation Monday if it doesn't lose Saturday to Baylor in Allen Fieldhouse, ranks 20th in the RPI. So can we all just say RIP to the RPI and never reference it again as proof of anything?
Any ranking that puts Kansas 20th isn't worth consulting to see where the Big 12 ranks as a conference. Better idea: Add up the total points in the Associated Press poll for conference members, divide that number by the number of conference members and see which league has the highest number.
Based on that formula, which includes points for schools that received votes but didn't make the top 25, the Big 12 comes out on top and it's not even close.
The rankings: 1. Big 12, 467.5; 2. Big East, 384.6; 3. Big 10, 277.6; 4. ACC, 185.1; 5. Pac-12 (116.8); 6. SEC (108.9); 7. AAC (80.4); 8. WCC (4.5); 9. A-10 (3.0); 10. MAAC (1.0).
Kansas coach Bill Self didn't have to consult any computer rankings or polls to articulate what the Jayhawks are about to stare down in an attempt to win a 12th consecutive conference title.
"It's a monster," Self said of the Big 12. "The best way to have the best chance to win it is to hold serve at home and go knock some people off on the road, but in this particular instance I think that there will be a lot of home losses by a lot of teams just because the competition's so good."
Kansas is No. 2 in the AP poll, joined by No. 3 Oklahoma, No. 11 Iowa State, No. 19 West Virginia and No. 23 Baylor. Texas Tech and Texas also received votes. The 15-member ACC is the only other conference with five members in the top 25 (5. Virginia, 7. North Carolina, 13. Miami, 15. Duke, 18. Louisville) with five members in the top 25. The Big East, a 10-team conference, has four schools in the top 25 (6. Xavier, 9. Butler, 12. Providence, 16. Villanova).
"You bring a top 20 team into your house, they can beat you," Self said. "We've got 19 games left until the postseason and all 19 are high-major, real games. I mean, they're real games."
KU's talent, depth and experience will come in handy during what should be an extremely entertaining grind.
— Tom Keegan appears on The Drive, Sunday nights on WIBW-TV.
More like this story on KUsports.com