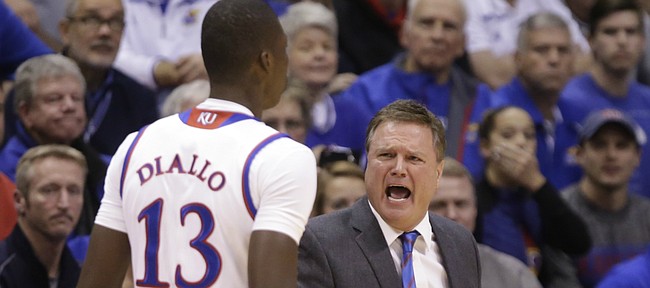 Bill Self, coach of a program that has finished first in the Big 12 in each of the past 11 basketball seasons, dreams the same dreams as the average Kansas University basketball fan.
He pictures talented freshmen Cheick Diallo and Carlton Bragg sprinting the court, throwing down lobs, swatting shots, hitting jumpers and turning Allen Fieldhouse into a wild party.
Fortunately, Self has the ability to suppress the fan in him and deal in the reality of today. He never has a problem letting his intelligence defeat his emotions when making decisions on how to coach his team.
A younger, less secure coach might cave to the temptation to force-feed minutes to talented young players at the expense of those who know how to play the game. A younger, less secure coach might worry about outside forces wanting to see McDonald's All-Americans wow the crowd.
As is the case with all great coaches in all sports, Self is acutely aware that once something other than trying to win the game at hand drives a coach's decisions, that coach has cheated himself, his players, his employers and his fan base. He's not paid so handsomely to win popularity contests. He's paid to win games.
He won another Tuesday night in Allen Fieldhouse, 78-53, against UC Irvine, the tallest college basketball team in the nation, as well as the one with the coolest nickname, the Anteaters.
Diallo, MVP of the McDonald's All-American game, and Bragg, who also played in the exhibition featuring the nation's top high school players, combined to play 17 minutes on a night that Landen Lucas played 15, Hunter Mickelson  11, Jamari Traylor eight.
Podcast episode
Kansas basketball coach Bill Self takes questions from the media after the Jayhawks' 78-53 win over UC Irvine to close out 2015. Self discusses KU's front-court rotation, as well as the upcoming Big 12 schedule and more.
Self did not apologize for that, because that's not what coaches who win games by 25 points do.
"We've given everybody a chance, but there's no question our experienced guys have looked better than our young guys," Self said. "The team looks better. The team plays better when we've had experience in there, so I don't know how it's going to play out."
Podcast episode
Kansas Jayhawks Perry Ellis, Frank Mason III and Devonté Graham meet with the media following a 78-53 victory over UC Irvine at Allen Fieldhouse.
Traylor played a key role in a 13-point victory at San Diego State. Lucas (eight points, four rebounds, a steal) and Mickelson (six points, two boards, two assists, a blocked shot and three steals) had a strong games Tuesday. Diallo scored six points in eight minutes, but in general does not look anywhere near ready for significant playing time and it has nothing to do with effort, everything to do with his lack of experience and feel as a basketball player. Bragg, who has had big games, had the opposite of that vs. UCI. He does look far more advanced than DIallo and could develop into a force before the year is out.
Self made it clear Tuesday that with the Big 12 season opening Saturday at home against Baylor, he will stop auditioning big men  for the sake of seeing what he has.
"You know basketball is a weird game in that, a lot of times we've had big leads and end up losing momentum and it's because of me," he said. "It's not because we're playing poorly. It's because we subbed and trying to get everybody in the game. From this point forward, there's none of that, there's none of that making sure everybody gets in type of deal.  We've got to play the guys that give us the best chance to win."
Leading by two points at halftime, Kansas opened the second half with a 16-2 run as Bragg and Diallo watched from the bench.
"The light's going to come on eventually," Self said. "It just hasn't come on yet. The thing about it is I want those guys to play. If you look at our best prospects, they may be our two best prospects at age 24 than anybody else. If you were going to advance it and say everybody's at age 24, those two may be it. That doesn't mean they're going to be better at helping you win games today than the other guys. I want those guys to come around, because when they do come around and play closer to their ceilings and learn how to play with the other guys, then I think that our team will be really, really good.
"I don't want to say that I want to sacrifice losses or put our team in more jeopardy just because of that. You've got to win games. These kids come to school here and they work their butts off for a number of years. We've got a lot riding on it, so the objective is to put your team in the best position to win."
Playing time doesn't determine when the light comes on. The light coming on determines playing time. Here's guessing it will come on for Bragg before this season is over. Diallo? That might take a little longer.
---
More news and notes from Kansas vs. UC Irvine
---
— See what people were saying about the game during KUsports.com's live coverage
More like this story on KUsports.com