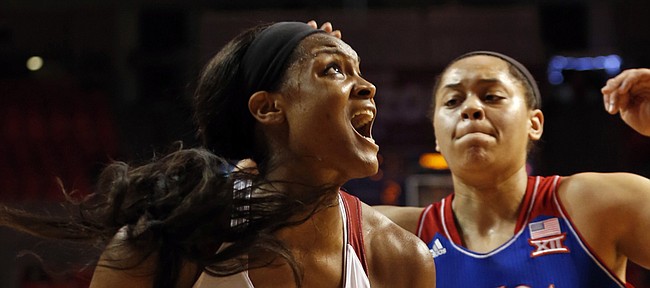 Norman, Okla. — Kansas University's women's basketball team shot 31 percent from the field and was outrebounded by 17 in a 67-44 loss to Oklahoma in the Big 12 opener for both teams Wednesday night at Noble Center.
The Jayhawks (5-7 overall, 0-1 Big 12) were led by Kylee Kopatich with 12 points and five rebounds.
Kaylon Williams had 21 points and nine rebounds for the 18th-ranked Sooners (10-2, 1-0).
The Jayhawks came within four points of Oklahoma in the third quarter after trailing by 10 at halftime. But the Sooners went on a 17-1 run to put the game away.
"Well, I thought when we cut it to four, they took their effort and toughness to another level," KU coach Brandon Schneider said. "They got out in transition and they were really starting to get on the offensive glass. To give up 17 second-chance points is way too many. We've got to do a better job of getting a body on a body. They just played harder in some situations. I thought our ones and twos fell asleep, not covering in transition, and they had some runouts. That was really the difference."
Chayla Cheadle scored nine points and Tyler Johnson scored eight for KU.
"I thought Chayla Cheadle played much better," Schneider said. "I was really proud of her. I thought Jayde Christopher did some good things. Tyler (Johnson), obviously, finished around the basket."
KU will host West Virginia at 2 p.m. Sunday.
More like this story on KUsports.com