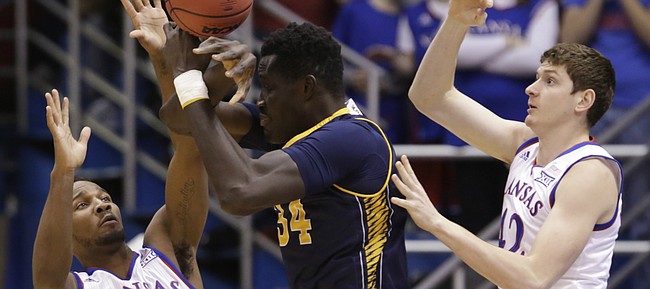 Landen Lucas leaned, Hunter Mickelson fronted, Jamari Traylor dug in and a number of different Jayhawks dove at him from the perimeter every time he touched the ball.
Not since Andrew Wiggins arrived in town has a basketball player in Lawrence received so much attention.
But that was the way things went all night during Tuesday's 78-53 loss to second-ranked Kansas for UC-Irvine big man Mamadou Ndiaye, the 7-foot-6 center from Senegal, who made even KU's biggest players look small.
In the 26 minutes the junior was on the floor, there was not more than one or two possessions when Ndiaye did not attract four, five or six hands that harassed him from head to toe.
Ndiaye finished the night as his team's leading scorer and rebounder but rarely found himself in position to take over the game. He finished with 12 points and eight rebounds on 3-of-5 shooting and blocked two shots, but said the love taps he received from the Jayhawks (11-1) all night were nothing new.
"Not really, because it's not the first time a team's played me like that," he said. "They don't really leave me at all, but all my teammates played smart, moved the ball and tried to get buckets."
Irvine coach Russell Turner said most nights his team, which features Ndiaye as well as 7-foot-2 Ioannis Dimakopoulos and 6-10 Mike Best, has a clear size advantage against its opponents. And while that proved to be true again against Kansas, the Jayhawks had a way to level the playing field.
"Kansas has more big guys that they can throw at our big guys and that wore us down," Turner said. "Good strategy for a team that has the kind of depth that Kansas does. Not many have that."
Although it took them a few size 14 sneakers to do it, the three Jayhawks most responsible for battling with Ndiaye (Lucas, Mickelson and Traylor) finished with a combined 15 points and 7 rebounds.
After withstanding a 7-0 KU spurt to open the game, the Anteaters (10-5) played with a lead for much of the first half and trailed just 28-26 at the break. A big reason for that was UC-Irvine's mindset.
"I told the guys before we tipped it off, 'Hey, we've got nothing to lose tonight, we've just gotta go out there and play as free as possible and just be us,'" guard Alex Young said. "I thought we did that in the first half and we got tight in the second half."
Kansas had something to do with that. The Jayhawks played with much more intensity and urgency in the second half, not only outscoring UC-Irvine, 50-27, but also forcing the Anteaters into tough situations when they did have the ball.
"Kansas is excellent, so I'm not upset with my guys," Turner said. "I thought they played terrific. Give them credit. They jumped on us at the start of the game and we withstood that and then in the second half it didn't seem like we were able to generate the same amount of juice."
---
More news and notes from Kansas vs. UC Irvine
---
— See what people were saying about the game during KUsports.com's live coverage