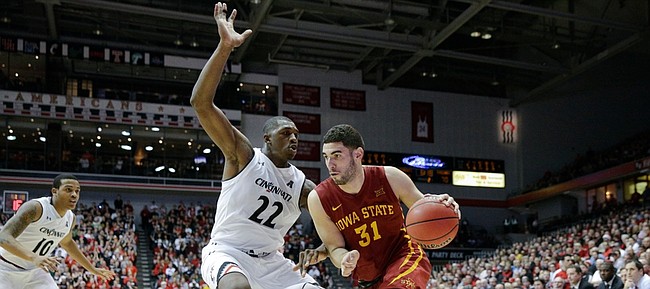 With conference play tipping off Saturday, the rest of the Big 12 once again will be reminded of its recurring nightmare: seeing Kansas University finish atop the men's basketball standings year after year.
Under coach Bill Self's guidance, the Jayhawks begin their league schedule Saturday versus Baylor (3 p.m., CBS), with the goal of winning enough games in the next two months to grab at least a share of the Big 12 regular-season title for the 12th season in a row.
The longer a player is around the Big 12, the more burdensome the task of toppling Kansas must seem. So just how agitated do opponents get, seeing KU repeatedly repeat?
"I don't get tired of it," Baylor senior forward Rico Gathers said before the season began, at Big 12 Media Day. "I get annoyed. I look at it like this: if we would've won during the regular season (last year), then we would be seeing somebody else different up there. It's really just about taking care of business when you've got the chance to take care of business."
Both Iowa State and Oklahoma finished a game behind KU (13-5) in 2014-15, while Baylor was two games back of KU. The Jayhawks escaped Waco, Texas, with a one-point victory to open conference play in 2015, then handled the Bears at Allen Fieldhouse to complete the regular-season sweep. Kansas split with both ISU and OU, winning at home against both the Sooners and Cyclones in the regular season (Iowa State prevailed, 70-66, in the 2015 Big 12 Tournament championship game).
As conference games get started this week, No. 3 Oklahoma, No. 11 Iowa State, No. 19 West Virginia and No. 23 Baylor all hope to do their part in ending KU's run of Big 12 crowns at 11 in a row.
Cyclones senior forward Georges Niang didn't want to give the Jayhawks "any bulletin board material" when asked if he grew tired of KU's annual conference dominance.
"They deserve it, they work hard, but obviously you want to be that team to knock them off," Niang said. "Other than that, I mean, I don't like thinking about it. I don't want to see it happen again, so this year we're looking to make a change."
The Sooners, undefeated so far this season with the help of national player of the year candidate Buddy Hield (24.9 points per game), have only themselves to blame for coming up short a year ago. Senior forward Ryan Spangler pointed to a pair of three-point losses to Kansas State — the Wildcats finished just 8-10 in the Big 12 — as results OU wished it could have back. It would mean a lot to the Sooners, Spangler added, to win the Big 12 in 2016, ending KU's streak in the process.
"It's big-time. You've gotta give them props," Spangler said of the Jayhawks' run, which began in 2005, when KU shared the league crown with OU. "Obviously they're doing something right to win 11 straight, and you have to respect them. But at the same time I think with our team we have enough experience and we know how to win the couple close games that we lost last year to put us in the position to knock them off."
Ultimately, that's the aspiration of every player in the Big 12 who doesn't play for Kansas.
Said Gathers (averaging 14.4 points and league-leading 11.1 rebounds this season): "It's not even about ending the streak. It's about going out there and being the 'one true champion' like the Big 12 always preaches. KU's been fortunate to be 11 straight. That's crazy. You know, they're up there with the UCLAs (the Bruins won 13 conference championships in a row between 1967 and 1979)."
With Niang (19.2 points, 6.5 rebounds, 3.5 assists), junior guard Monté Morris (14.5 points, 7.6 assists, 2.3 steals) and senior big man Jameel McKay (14.4 points, 9.9 rebounds, 1.4 blocks) returning — Naz Long will miss the rest of the season with hip injuries — for new ISU head coach Steve Prohm, the Cyclones are confident they also have enough talent to win the Big 12.
"That'd be great," Niang said. "To be honest, what (KU has) done is pretty special and if you can be the team to knock them off, you're gonna be remembered. Because I don't know if people remember the team that won it six years in a row for KU, but they will remember the team that stops that streak, so I think that's why every team's gunning to be that team."
---
---
---
More like this story on KUsports.com