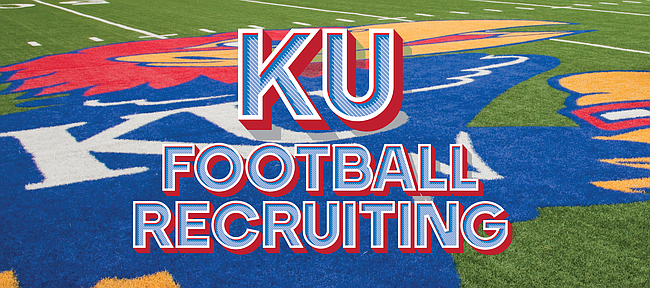 One of the most interesting quarterback prospects in the state of Texas announced last week that he plans to enroll at Kansas University in time for the spring semester and spring football.
According to a report from JayhawkSlant.com, Dagan Haehn, a 6-foot-2, 200-pound dual-threat QB from Lake Dallas, Texas, is expected to join the KU program after winter break.
Haehn's story is unique in a couple of ways. For starters, Haehn was born in Lawrence, and both of his parents, Anne and Roman, attended KU. So, clearly, he is familiar with the area.
Beyond that, a few recruiting analysts seem to be surprised that the quarterback, who tore an ACL last summer before his senior season but still racked up more than 8,700 yards of offense during his prep career, does not have an offer from a major-conference program.
He rehabbed hard in the offseason and returned to the field in time to start the second half of his final prep season, finishing with 2,318 yards and 29 TDs in limited action.
In 2014, as a junior, Haehn threw for 2,710 yards and was the district MVP, feats that caught the eye of several Big 12 programs, along with Oregon State, Cal, Missouri and others.
Haehn's connection to KU began because of the longtime friendship between his high school coach, Michael Young, and current KU coach David Beaty. The bond with Beaty, his parents' familiarity with Lawrence and the injury created the perfect storm for Kansas to land a player with impressive potential.
It is not yet known whether Haehn will be on scholarship at Kansas this spring.
"The plan would be to get in at spring semester, learn the offense, get acquainted with my teammates and coaching staff," Haehn told Jon Kirby of JayhawkSlant.com. "This is such a big opportunity for me, and I can't thank coach Beaty enough. It is very exciting because, with my injury, a lot of schools wrote me off. For coach Beaty to come back around and notice that I was playing good football, that says a lot about him, the person he is, and the program he is trying to establish."
Haehn will join a crowded position at Kansas but, based on Beaty's "earn it" philosophy, figures to have just as good of a chance to earn reps as returning sophomore starter Ryan Willis, red-shirt freshman Carter Stanley and KU's injured upperclassmen, Deondre Ford and Montell Cozart.
Griffin switches
Two-star Huntsville, Texas, athlete Jay Griffin, who committed to KU at the beginning of the month, has decided to go a different direction.
Reports on Twitter last week indicated that the 5-foot-11, 160-pound athlete and a teammate had committed to New Mexico.
Griffin, who played wide receiver at Huntsville High and likely projected as a defensive back in college, had committed to Utah prior to switching to Kansas.
Griffin's departure leaves KU with 10 current commitments in the Class of 2016. Three of those — defensive linemen DeeIsaac Davis and Isi Holani and wide receiver Stephan Robinson — signed national letters of intent last week and will be on campus in time for spring ball.
While that would seem to leave KU with 15 scholarships to hand out to fill its 25-man class, the number of available scholarships actually is closer to half that because of the handful of Jayhawks on the 2015 roster who were counted forward to the 2016 recruiting class.