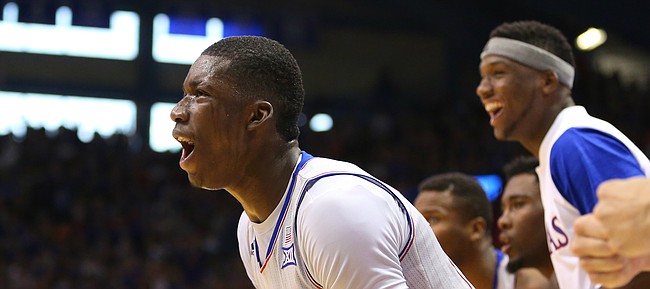 If your name's not Perry Ellis and you play in the post for the second-ranked Kansas University basketball team, chances are good you'll watch more minutes than you'll play.
Five post players share the available 54 minutes either backing up Ellis or playing alongside him.
None of the five play more than Jamari Traylor's 15.3 minutes a game or fewer than Hunter Mickelson's 10.3 minutes.
If you're going to watch, you might as well watch closely. Mickelson's playing time has increased lately, but he still watches enough to offer interesting insights on the big men he plays with in practice and alongside in games.
So I asked him what he would steal if he could take one thing from each fellow post man.
"Landen (Lucas), probably how he gets angles in the post," Mickelson said. "He's really, really good at that, so I'd take that from him. I think from Perry, footwork. He has really, really good footwork. Jamari, hustle and energy. I'd probably take athleticism from Cheick (Diallo) and overall style from Carlton (Bragg Jr.)."
The fact he didn't specify any one facet of Bragg's game makes sense, because of those vying for time next to Ellis, Bragg has the most all-around talent and is the team's best NBA prospect, regardless of what the meaningless-at-this-stage mock drafts might indicate. If anybody breaks from the pack to the extent he plays more minutes than he sits, Bragg's the most likely, but there is a limit to how much stronger an athlete can get in a short amount of time.
Lucas, the most offensively challenged and least athletic of the bunch, also is by far the strongest physically and has the most knowledge of how to play the game at the collegiate level.
The center-by-committee arrangement, although not ideal, has its redeeming qualities.
"Since we have so many bigs as of now, we aren't going to play that many minutes, so while we're out there we have to go as fast as we can and get the most out of it," Mickelson said.
Mickelson has the speed to keep up in transition running in both directions and has a knack for blocking shots. His lateral quickness doesn't match his speed, and as is the case with everyone other than Lucas, he lacks the strength to keep centers from backing him down in the post. Still, Mickelson appears to have grown on 13th-year KU coach Bill Self.
"Hunter is getting better at understanding what we're doing," Self said. "Hunter needed reps, and the reps have really helped him. Seems like to me the more he plays the more confident he gets. He just looks like he belongs out there."
When Mickelson takes an open shot from the corner, Self is not saying, "No, no, no, yes." Instead, he expects it to go in.
"He's not a low-post scorer," Self said. "For the most part, he's a pick-and-pop guy. Great touch. He can shoot the ball. Everybody feels comfortable with him shooting."
Ten games into the season, Kansas is shooting at a remarkable .467 clip from three-point range, nationally ranking behind just St. Mary's (California) and Oklahoma, who are shooting .477. That kind of accuracy has made it barely noticeable that other than Ellis, Kansas doesn't have a prolific low-post scorer. The Jayhawks don't need a ton of points from their center. If they can steadily improve as defenders and rebounders, the center-by-committee shouldn't hold them back.
More like this story on KUsports.com