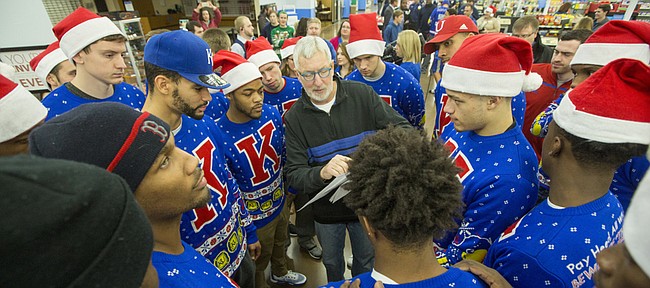 Wearing holiday sweaters and Santa Claus hats, Kansas University's 16 men's basketball players paraded around the Iowa Street Wal-Mart on Wednesday night, purchasing Christmas gifts for Lawrence families in conjunction with the Salvation Army.
"Joy," KU junior guard Frank Mason III said, asked what he wanted to provide most to families as part of the Jayhawks' 19th-annual Santa's Helpers program. "You want everyone to be happy, give them everything they want for Christmas. We're trying our best to make them happy and have a great Christmas," Mason added.
The 5-foot-11 Petersburg, Virginia, native placed pots and pans, flashlights, clothes, toys and even a space heater in his shopping cart during his trek around Wal-Mart.
"It's just special to come in here, give back to families and put a smile on their face," Mason said.
Players were allotted $100 per family, with money raised by former KU basketball player Roger Morningstar and his wife, Linda, the KU Roundball Club and coach Bill Self.
"I'm just happy to come out here and do something positive for someone else," said KU senior forward Jamari Traylor, who early in his shopping spree had selected toy wagons, Legos and teddy bears for his family of four. "Anytime we can put a smile on other people's faces, it's an amazing feeling. I remember growing up as a kid (in Chicago) the effect of presents. Just doing something for others makes you feel a lot better."
Self said the players truly look forward to the annual shopping excursion at Wal-Mart.
"They try to shop smart and still yet make somebody else's Christmas," Self said. "Christmas is pretty special to our guys. We are so fortunate and blessed. There's a lot of people out there struggling, especially this time of year. Anything our guys can do ... I know it gives them great pride to do it."
Volleyball fans: Self moved the shopping excursion from tonight to Wednesday so the Jayhawks could watch KU's Final Four semifinal volleyball match against Nebraska on TV. First serve is set for 8:30 p.m., in Omaha, Nebraska.
"I won't miss a serve," Self said. "I know our players have been huge fans. I've seen 'em play a few times this year as well. I love how hard they play. I love our athletic ability. I love how aggressive we are. Ray (Bechard, volleyball coach) has obviously done a fantastic job.
"This is a fun team to watch play. I hope our basketball team plays with the reckless abandon in many ways the volleyball team plays with."
This, that: KU signee Mitch Lightfoot scored 39 points and grabbed 25 rebounds in Gilbert (Arizona) Christian's 92-83 win over Cesar Chavez on Tuesday. Lightfoot, a 6-9 senior forward, is ranked No. 117 in the Class of 2016 by Rivals.com. ... Billy Preston, a 6-foot-9 junior forward from Advanced Prep International in Dallas, who is ranked No. 6 in the recruiting Class of 2017 by Rivals.com, has cut his list from 29 schools to 13. They are: KU, Arizona, USC, Maryland, UConn, Kentucky, Oregon, N.C. State, UNLV, Baylor, Arizona State, Texas and St. John's.
How long will he coach?: Self was asked by radio-talk-show host Jim Rome on Wednesday if he wants to coach as long as possible or perhaps walk away from the game at some point.
"I've thought about it. I thought about it when I got involved in coaching how long I'd want to do this. I respect so many, whether it be Bo (Ryan, who just retired at Wisconsin), or coach Boeheim (Jim, Syracuse) or Krzyzewski (Mike, Duke) or Williams (Roy, North Carolina) or whoever has been in this business for so long. I don't think I'll do that," Self, 52, said.
"I know certainly I want to be able to fulfill my contract (through 2021-22 season) and maybe go beyond that, but I'm not going to be a lifer. I can't see that right now. Now if I have no hobbies and no other interests and certainly I need something to keep me busy ... that would be something if my motor is still running.
"To compete at the highest level for so long in any profession, it wears on you after time. I don't think I'd want to do this unless I felt I could give the energy and be as good as I could be because there's young guys coming up behind you trying to knock you off your perch or beat your butt without question. As long as I have the energy level I will do it and I'll love to do it. As soon as I lose that, I can't see staying in."
More like this story on KUsports.com