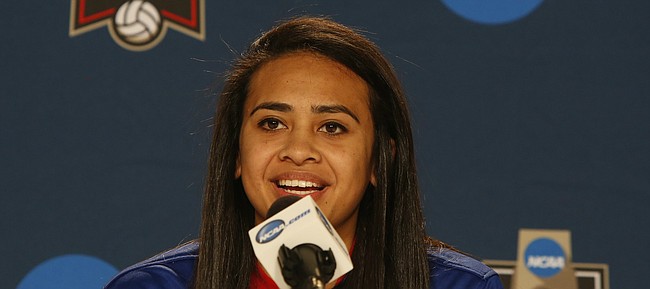 Omaha, Neb. — Want to know just how tight the Kansas University volleyball family has been this season?
Two of the most critical players on the Jayhawks' Final Four team during the best season in school history even have kept KU volleyball secrets from their actual family.
On Monday afternoon, KU coach Ray Bechard informed sophomore setter Ainise Havili that she, along with sophomore hitter Kelsie Payne had been named first-team All-Americans by the American Volleyball Coaches Association.
But it was not until a phone call from Bechard to Havili's mother the following day that the Big 12 setter of the year's family learned about the monster achievement.
"Our staff found out on Monday that she was a first-team All-American," Bechard recalled. "So we brought her in, told her. She was excited. She was excited for Kansas volleyball. Tuesday, I thought, 'Hey, I should call her mom.' So I call mom up, and I said, 'Hey, how's everything going? Ainise called you, right?' She said, 'No.' So here's a kid that's first-team All-American, humble enough that she didn't think she needed to call home and say, 'Hey, guess what happened to me?'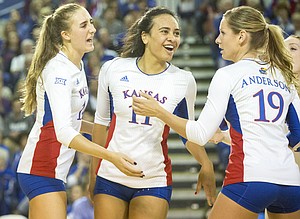 "That's off the court. When she gets on the court, she's an intense, fiery competitor who does not like to lose. She creates great opportunities emotionally for our team, competitively for our team, and there's nobody else we'd rather have running our team than Ainise Havili."
That passion — as well as the dynamic combination of Havili and Payne together — helped Kansas field one of the most productive offenses in the nation this season.
The Jayhawks, who will face fourth-seeded Nebraska (30-4) in a national semifinal at 8:30 Thursday night, finished the season ranked fourth in hitting percentage (.305), second in kills per set (15.1), and second in assists per set (14.2).
Havili and Payne became the first KU players to earn first-team AVCA All-America honors and were just the second and third AVCA All-Americans in school history, joining Caroline Jarmoc, who was a third-team selection in 2013.
In addition to the Big 12 setter of the year honor, Havili also earned the following accolades: all-Big 12 First Team, AVCA all-Midwest Region First Team, AVCA National Player of the Week (Oct. 13), and two-time Big 12 Offensive Player of the Week. The Fort Worth, Texas, native ranks second in the nation in assists per set (12.2).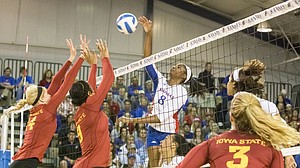 Payne enters the Final Four as the Big 12's leader in kills per set and also was a member of the all-Big 12 first team, the AVCA all-Midwest Region first team, and was a four-time Big 12 Offensive Player of the Week. The Austin, Texas, native is the only player in the nation ranked in the Top 35 in hitting percentage (34th; .379) and kills per set (19th; 4.4). Payne holds the KU record for kills in a season with 474, a total that includes seven 20-kill performances this season.
This team did not advance this far by worrying about individual achievements. And both Bechard and the players themselves emphasized that Wednesday during KU's media session at CenturyLink Center. But now that the secret is out of the bag, both were happy to discuss what it meant to them.
"It's awesome," Payne said. "It's a really big accomplishment. It's something that athletes strive for and something we work toward. To be the first ones to do it, together, it's really cool for us."
Added Havili: "It's a dream come true. Every athlete coming up sees the All-American team and hopes one day they can be on that list. Now that we are, and I'm on the list with my best friend, I hear for the first time, and it's great."
Bechard, who is now in his 18th season leading KU volleyball, has been around long enough to know that not all of the nation's most talented players get recognized every season.
"Certainly a team that advances deep in the tournament is going to create opportunities for individual awards," Bechard said. "Ainise has been outstanding. Payne's been outstanding. And this whole team has collectively pulled together and created a season that we'll remember for a long time."
— For much more from KU's experience in Omaha, stay logged on to KUsports.com throughout the day.
More like this story on KUsports.com