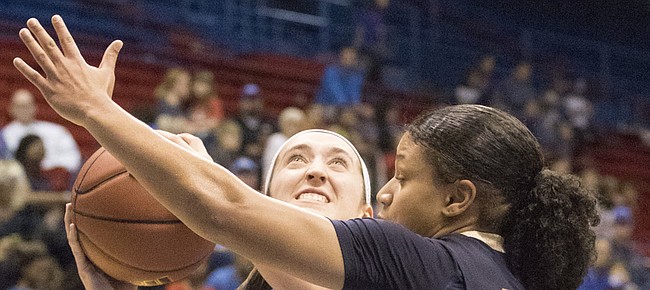 After his Kansas University women's basketball team lost back-to-back games at Allen Fieldhouse last week, first-year coach Brandon Schneider made a point to move on from how poorly the Jayhawks had played.
Yet some carryover remained Sunday afternoon against Navy, and KU trailed by 19 points in the second quarter before finally escaping a weeklong rut in the second half, when freshman Kylee Kopatich's last-minute layup forced overtime, and Schneider's Jayhawks prevailed, 61-54, at Allen.
Recovering from a 32-13 hole is one thing, but doing so to avoid a three-game losing streak is another.
"The thing that made it even harder was how we lost on Thursday," Schneider said of a 47-44 home setback against UMKC. "We didn't play well at all. I know as a coach, and I think I can speak for the players, our pride was hurt, and we were embarrassed. It's hard to pull yourself out of that in a couple days."
Somehow, Kansas (5-4) found a way. Once the Jayhawks re-emphasized getting the ball to the paint in the second half and showed more patience on offense by driving into gaps and making better decisions, they started playing better defensively, too. Navy (5-5) hit seven of its 15 three-pointers in the first half, when sophomore guard Taylor Dunham (24 points) caught fire, shooting 6-for-9 to score 20 points and give Navy a 34-22 halftime lead.
The rest of the way, the Midshipmen hit just two of eight from downtown and seven of 29 overall. On the other end of the floor, KU scored 32 points in the paint to Navy's 10.
"To be down 19," Schneider said, "and show that kind of resolve to come back and still win the game, obviously is something I'm really proud of our guys for."
Junior KU forward Caelynn Manning-Allen posted a double-double (10 points, 11 rebounds) and gave KU the lead for good less than a minute into overtime by converting a layup off a dish from Kopatich (14 points, three assists).
Junior Jada Brown (seven points, eight rebounds) scored KU's only other OT field goal, but between free throws from sophomore guard Lauren Aldridge (19 points) and Kopatich, and KU's defense, that was more than enough. Navy scored just two points (both at the foul line) in the extra period, missed all three of its shots from the floor and turned the ball over three times.
"Overtime's what everybody plays for," Aldridge said. "I mean, everybody plays for the fourth quarter, everybody plays to win. But whenever you're given an overtime, everybody goes out and wants to perform well in overtime, and we just did a great job of staying in offense and getting open shots. People stepped up, and it was good for us."
The game marked the first career starts for KU freshmen Jayde Christopher (four points, two assists) and Tyler Johnson (four points, one rebound).
By the time the Jayhawks left the fieldhouse, they all felt much better about the state of the team.
"I think the way that we won was really good for us," Aldridge said, "especially coming off of two losses, because I think that it kind of reestablishes the 'tough and together.' And I think for anybody, it's more exciting to win in overtime than it is to win in regulation, so I think it was good for us, and hopefully we can use this to keep us rolling."
The Jayhawks have a week off before playing host to Washington State on Sunday.
More like this story on KUsports.com