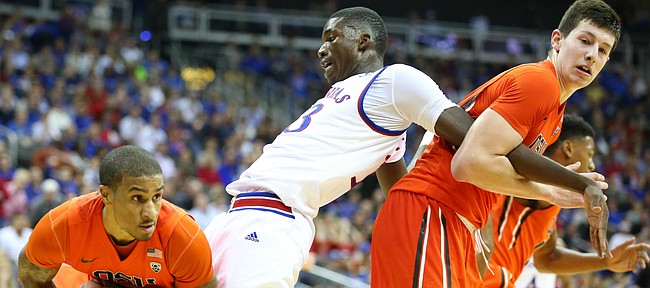 Oliver Luck, the NCAA's new vice president of regulatory affairs, concedes it took the Eligibility Center a long time to deem KU's Cheick Diallo eligible.
"I've been with the NCAA in this position about nine months, and this was the most complex case that I have seen," Luck told Kansas City 610 radio on Friday. "Because of all those issues (academics, amateurism) that lead into these decisions, it just takes a lot of time to sort out. 
"Now, at the end of the day, I think we can shorten some of these cycles and get answers more quickly to coaches, to athletic directors like Bill Self or Sheahon Zenger, and we're committed to doing that. Sometimes we can be our own worst enemy by not turning around some of these cases quicker, but in the Diallo case I can tell you it was complex. The good news is he's, I guess, playing well. I haven't followed the Jayhawks that closely. By all accounts he has been a good student at the university, so I think all's well in a sense that ends well."
Photo Gallery
Kansas basketball v. Oregon State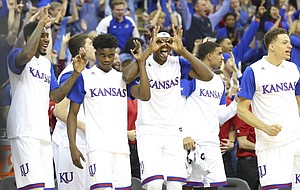 Images from the Jayhawks' Saturday night game against Oregon State at Sprint Center.
Sources have told the Journal-World that KU officials were quite pleased with the work of Luck in the final stages of the Diallo saga. He definitely was seen as helpful rather than a possible hindrance.
"I'm working with all my staff to figure out better ways to do these things, shortcuts we can take without damaging the integrity of the process," Luck told 610, noting that initial-eligibility standards will be tougher starting with next school year. 
"Keep in mind every year the Eligibility Center will process about 100,000-plus student athletes who are certified to play in Div. I and II, so there's really not that many sticky cases. But every year we've got 250 or so where there (has to be) additional fact-finding, additional conversations with people, guardians, other folks particularly with kids who have come over to the U.S. as minors. There's more 14-, 15-year-old kids coming to the U.S., whether to play basketball, run track, other sports than you'd imagine. We have guardianship issues that all get somewhat complicated. Again, I don't want Kansas fans thinking we weren't diligent, but in the future we can be more diligent in working these cases more quickly, getting them accelerated so that coaches and student-athletes get the answers in a quicker time frame."
— See what people were saying about the game during KUsports.com's live coverage
---
More news and notes from Kansas vs. Oregon State
---
More like this story on KUsports.com