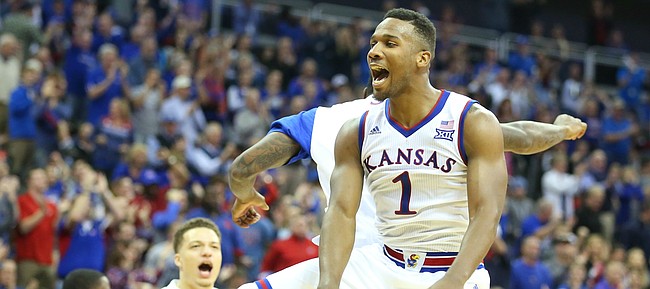 Kansas City, Mo. — A wide assortment of Kansas University basketball players, 11 in all, played two or more minutes in the first half on Saturday night, the Jayhawks trailing Oregon State by as many as 14 points in a dismal 20 minutes of play.
The five starters — Perry Ellis, Hunter Mickelson, Wayne Selden Jr., Frank Mason III and Devonté Graham — plus one reserve, Carlton Bragg, monopolized all but one minute the second half as the Jayhawks maybe proved less is more in an 82-67 come-from-behind victory over the Beavers in Sprint Center.
"They way we were playing, there really wasn't a reason for him (Bill Self) to sub, because we were playing with so much energy," Graham said of a second half in which KU outscored the Beavers, 54-28 — at one point turning that 14-point deficit into a 16-point lead.
Photo Gallery
Kansas basketball v. Oregon State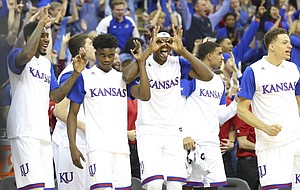 Images from the Jayhawks' Saturday night game against Oregon State at Sprint Center.
"I was surprised we played the whole second half and got no break. He kept asking us if we were tired. We kept saying, 'No, we just want to win,'" Graham added.
Self — who said the first half was the "worst we've played all year" and second half "was the best we've played all year" — wound up using Selden (22 points), Mason (18 points), Ellis (13 points) and Graham (10 points) 19 minutes the second half. Mickelson (seven points, six boards) played 10 minutes the second half and the one sub, Bragg (eight points, four boards, three assists), went eight minutes.
"The more we fell behind (first half), it seems, the more energy we lost," Self said. "Subbing certainly didn't do anything for us. Guys, when they come off the bench, should provide energy, be uplifting for your team. It (bench) wasn't at all tonight.
"The second half, I planned on playing everybody again (like first half). When we got on a roll (a 14-0 run that turned 48-41 deficit into 55-48 lead) and got going good, guys said they were not tired. I didn't see any reason to sub. We haven't had the bench ever play like the starters the second half. The reality is, we've got to be better when you get an opportunity and give us some positive energy when you come in the game.
Podcast episode
Kansas basketball coach Bill Self speaks with reporters about the Jayhawks' comeback victory over Oregon State at Sprint Center, and how KU pulled it off by relying on a shortened, six-man rotation.
"What Frank, Devonté and Wayne showed me," Self continued, "is you can pressure and still stay out there the whole time, because the second half is the most we pressured all year long. It seems that should be the most tired they should be (all year). It was the polar opposite. They had energy. It was contagious. I didn't see any reason to sub."
Selden actually had a chat with two of his teammates after that abysmal first half in which Oregon State freshman Tres Tinkle, the coach's son, torched KU for five threes and 16 points.
Podcast episode
After each logged 35 minutes or more Saturday against Oregon State, Kansas guards Frank Mason III, Wayne Selden Jr. and Devonté Graham discuss how the Jayhawks recovered at Sprint Center to defeat the Beavers.
"There wasn't panic (at halfdown down 39-28). It was fixing what we had to fix. I told Devonté and Frank we had to fix it. The team goes how we go," Selden said. "We came out and played with more energy, guarded, were more efficient on the offensive end, took better shots and got in the lane."
Self conceded there wasn't any "X's and O's" talk at halftime.
"There was not a lot of strategy at halftime. You want to play, you'll play harder," Self said. "(Play) with more energy, play to scouting report and play more focused. It wasn't technical."
Senior forward Ellis, who had two points off 1-of-5 shooting the first half, went for 11 points off 3-of-5 shooting (4-for-4 from line) with seven boards the second half.
"We were more aggressive as a whole. We didn't have a presence at all physically in the first half," Self said. "We'd get it in tight and had guys miss layups, flinch. We let him (Gary Payton II) dunk it on our head. How do we let a guy dunk it on our head like that? It gave them confidence. Guys have to get more aggressive. Perry has to get aggressive. He's playing like he did when he was 18. He's not 18. He's a 22-year-old man. When he's aggressive, he's terrific. I thought Devonté the second half was really good (nine points, four assists). Hunter scored the ball to start the half (hitting two of four jumpers, missing a three). Carlton was great off the bench. Some guys will be disappointed they didn't play. The way we look at it is, some guys had opportunities the first half. The second half we went the direction we had to go."
Self said his decision to go with just six players and cut the rotation could make for some interesting practices because he has had some teams in the past that didn't make use of much manpower off the bench. He's willing to have a short rotation if need be.
"We'll never max out if we don't play and understand (the) bench is energy," Self said. "They have to lift the guys when they come in the game. If we get to where we can do that, hopefully we'll be dangerous."
KU (8-1) will meet Montana at 1 p.m. Saturday in Allen Fieldhouse.
— See what people were saying about the game during KUsports.com's live coverage
---
More news and notes from Kansas vs. Oregon State
---
More like this story on KUsports.com