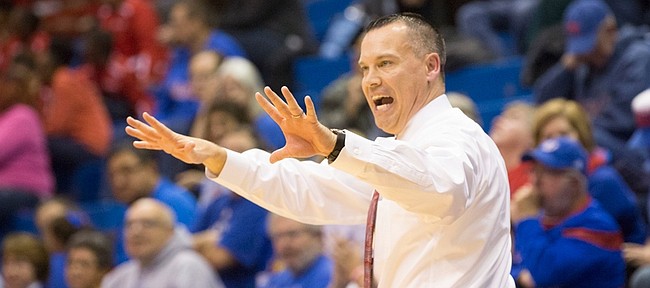 When: 2 p.m. today
Where: Allen Fieldhouse
Who: St. John's
Series: KU leads, 1-0
Guard support: After Kansas University's women's basketball team defeated Creighton on Wednesday, coach Brandon Schneider said KU's offense is at its best when the Jayhawks' guards are knocking down shots from outside. Sophomore point guard Lauren Aldridge shot 4-for-9 from three-point range in the 13-point home win, and freshman Kylee Kopatich drained all three of her tries from deep.
But Schneider added that KU's ability to use freshmen Aisia Robertson and Jayde Christopher as primary ball-handlers for stretches also helps KU's offense.
"When you can play Jayde Christopher at the 1, and you can get Lauren off the ball a little bit — I mean, I love Lauren as a point guard, but I like her in a shooting role, as well," Schneider clarified. "But the amount of minutes that (Aldridge) plays, I think it takes a little bit of the pressure off of her. And Jayde is so aggressive and does such a great job of getting in the lane, when you can surround her or any other guard with guys that can make shots, then the offense does look much better."
Streaking: In two of her last three games, KU freshman forward Tyler Johnson has provided the Jayhawks with easy baskets off the bench. Johnson shot 4-for-8 against Northern Illinois and 4-for-6 against Creighton. The 6-foot-2 Leavenworth native is averaging 5.3 points in just 12.2 minutes.
Slumping: Through six games, KU's free-throw shooting hasn't been consistent. The Jayhawks have improved of late, making 14 of 19 at SMU and shooting 7-for-8 at the foul line versus Creighton, but overall Kansas is hitting just 64.8 percent. Junior Caelynn Manning-Allen leads the team in free-throw attempts and has hit 12 of 19 (63.2 percent).
Probable starters
Kansas (4-2)
G — Lauren Aldridge, 5-7, so.
G — Aisia Robertson, 5-7, fr.
G — Kylee Kopatich, 5-10, fr.
F — Jada Brown, 6-0, jr.
F — Caelynn Manning-Allen, 6-4, jr.
St. John's (5-1)
G — Aliyyah Handford, 5-9, sr.
G — Aaliyah Lewis, 5-5, jr.
G — Danaejah Grant, 5-9, sr.
F — Sandra Udobi, 6-2, jr.
F — Imani Littleton, 6-3, so.
More like this story on KUsports.com