The alleged mystery surrounding Perry Ellis' sluggish play isn't all that mysterious. He's a perfectionist and when perfectionists are burdened by imperfections beyond their control, it sometimes bothers them more than most. It changes their routine, eats at their focus.
Ellis played well in Kansas University's first three basketball games, not nearly as well in the past three, including in Saturday's 75-69 victory vs. hard-to-kill Harvard in Allen Fieldhouse.
Healthy hip translated to strong play. Nagging hip injury, less productive play. It very well could be that simple. Other than acknowledging that the hip that he injured late in the UCLA game bothers him a little, he won't use it as an excuse for diminished play. Of course he won't. To do so would be to open himself up to accusations of being "soft," which he must be tired of hearing by this stage of his career, especially given that he battled late last season with a knee injury that required postseason surgery.
Photo Gallery
Kansas basketball v. Harvard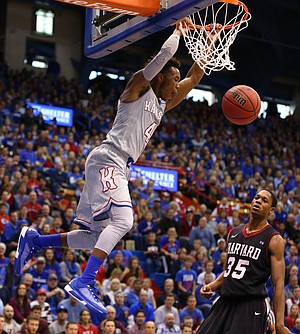 Images from the Jayhawks' matchup against Harvard on Saturday at Allen Fieldhouse
Ellis has made just 11 of 28 shots from the field in the past three games, victories against Vanderbilt, Loyola of Maryland and Harvard. Maybe he's not getting the lift he expects when he goes up to shoot and it throws off his shot.
And if it's not just the hip, it could be another case of early season blues. As a junior, Ellis was shooting a weak .406 from the field before Christmas. He caught fire late in the Big 12 schedule until suffering the knee injury.
Podcast episode
Kansas basketball coach Bill Self speaks with the media about the Jayhawks' 75-69 victory over Harvard, a game which included the Crimson tying the game late in the second half and KU getting out-rebounded 39-31.
Ellis will catch fire again, maybe not until his hip stops bothering him. When he does, solid, unspectacular teams such as Harvard won't throw a scare into Kansas. At this point, Ellis is the only consistent low-post scoring threat on the team. Cheick Diallo isn't there yet. Carlton Bragg isn't finishing through contact the way he will later in his career. Landen Lucas' specialty is rebounding, not post moves. Jamari Traylor's forte is defense. Hunter Mickelson doesn't look as if he'll log enough consistent minutes to develop a confident offensive game. So that leaves Ellis, who averaged 20.3 points in 27 minutes vs. Northern Colorado, Michigan State and UCLA.
Podcast episode
Kansas basketball players Frank Mason III, Devonté Graham and Landen Lucas speak with media members about the Jayhawks' tight 75-69 victory over Harvard, Saturday at Allen Fieldhouse.
Ellis played 27 minutes Saturday and was limited to 12 points and four rebounds.
Self is on the record as saying Ellis' hip is not a factor.
"I don't know," Self said when asked about what has slowed Ellis of late. "He's such a good player. I mean, he's such a good player. He played way below the rim today. He hasn't been the same since we got back from Maui."
Self stopped himself to clarify he wasn't blasting his senior star.
"I'm not speaking negatively at all, because I love his game," Self said. "I think he's so good. He hasn't been himself. He hasn't been aggressive, so I don't know if he has a flu bug or something going on. Even tonight, he didn't make moves with any authority and certainly got the ball right where he wanted it and wasn't able to finish."
Experience is so important in college basketball and Ellis and Wayne Selden Jr. are the Jayhawks' most experienced players. With Ellis not himself and Selden limited to 22 minutes by foul trouble, Kansas looked very beatable against 2-6 Harvard.
— See what people were saying about the game during KUsports.com's live coverage
---
---
---
More news and notes from Kansas vs. Harvard
---
More like this story on KUsports.com