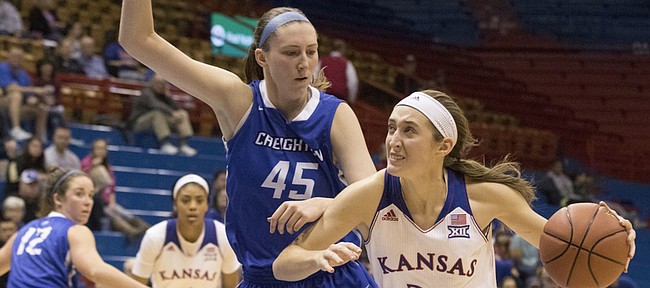 It's rare that sophomore point guard Lauren Aldridge doesn't enjoy the company of her teammates during a Kansas University women's basketball victory, but she might have been pushed to the brink of mild annoyance Wednesday night at the end of the third quarter if she wasn't having so much fun.
The 5-foot-7 sophomore drilled a buzzer-beating three-pointer from more than 10 feet behind the arc, setting off a swarming mob of welcomers on her way back to the KU bench.
"I just liked the way my teammates responded," Aldridge said after scoring a game-high 18 points in KU's 67-54 victory over Creighton. "I thought Caelynn (Manning-Allen) tackled me. We sat on the bench and I was like, 'Caelynn, you gave me whiplash.' It's fun whenever we have momentum plays like that and a team's together enough to celebrate them."
The extra-long three capped a highly productive quarter. Although the Jayhawks (4-2) only led by two in the opening minutes of the second half, back-to-back three-pointers from freshman Kylee Kopatich and Aldridge got the offense rolling. KU went on to shoot 9-for-15 in the quarter, outscore Creighton 26-14 in the third and take a 15-point lead into the fourth.
"Lauren's been on fire," Kopatich, who added a career-high 15 points, said of Aldridge's successful, running hoist. "Once it was up, I kind of knew it was gonna go in. But it was just an extra boost of energy. We were already up, we were making plays and that shot just set it all."
In the game's opening minutes, Creighton (4-3) seemed poised for a road win. Five different Bluejays made threes in the first quarter, and KU trailed 19-10 entering the second.
However, Kansas countered with a three-point-powered response. Sophomore guard Chayla Cheadle made a left-corner three, KU's first of the game, to cut the KU deficit to nine. The next trip down the floor, Cheadle set up Aldridge for another three. When Kopatich cashed a three off an Aldridge assist, KU had an 11-1 run.
Kopatich (3-for-3 from long range) buried her second three on a pass from junior forward Jada Brown late in the second, and KU led for the first time since the opening minute, taking a 30-27 advantage into halftime.
"I think it all started with our defense," Aldridge said of the response. "We were taking the ball out of the net, which was causing us to not be able to flow into offense and into transition. So whenever we started getting stops, we were able to do that a little bit easier."
Kansas held Creighton to 2-for-13 shooting (1-for-3 on threes) in the second quarter, and in the third the Bluejays shot 6-for-14 (2-for-4 from three) and turned the ball over six times.
Said KU coach Brandon Schneider, after KU's first home game that followed a 1-2 road trip: "This is the kind of win we really needed, especially coming off a week where we didn't feel like we played our best basketball."
Kopatich, a first-year guard from Olathe, shot 3-for-3 from three-point range and grabbed a game-high seven rebounds — sharing that distinction with junior KU forward Manning-Allen.
"It's awesome to have another shooter beside you," Aldridge said of Kopatich, after making four of nine from long distance herself, "because any time you pull another shooter beside you it takes a little bit of the load off of yourself. They've gotta respect Kylee on the three-point line and hug her a little bit, so that opens driving lanes for the rest of our team."
The Jayhawks made eight of their 19 three-point field goals.
Freshman Tyler Johnson, junior Timeka O'Neal and Manning-Allen each scored eight points.
Kansas returns to the fieldhouse on Sunday to play host to St. John's.
More like this story on KUsports.com