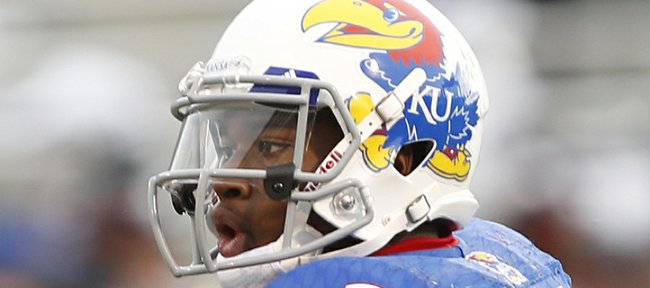 Three Jayhawks who emerged this summer as some of the strongest voices in the Kansas football program were elected captains via a team vote last Friday.
KU officials revealed Monday morning that junior quarterback Montell Cozart, senior defensive end Ben Goodman and junior safety Fish Smithson would serve as KU's captains for the 2015 season, an honor that first-year coach David Beaty recently called "one of the biggest (honors) you could ever receive in your college career."
Cozart, who last week was named the starter for the season opener for the second year in a row, has appeared in 14 games and made eight starts during his first two seasons at Kansas.
His career numbers — 87-for-191 for 928 yards, 9 interceptions and 5 TDs — leave a little to be desired, but both Cozart and the coaching staff have talked all offseason about his improvement and maturity, both as a quarterback and a leader.
Officially named the starter one week ago, Cozart's status as "the guy" already has made a positive impact on the team, according to Beaty.
"I think his work habits, the way he conducts himself each day, is one of the things that draws people to him," Beaty said. "I don't think those kids want to let him down. He never asked anyone to do anything that he doesn't do and he doesn't do twice as hard. He's just a great teammate, a great leader and I think him being named the starter has given our team some comfort there."
Goodman, a fifth-year senior from Beaumont, Texas, who has 34 career appearances and 23 starts, became what Beaty called "by far" the best leader on the team this summer, so his election was not a surprise.
Goodman finished with 21 tackles — 2 for loss and 1 sack — in 2014 and has 76 career tackles, with 13 for loss and 5 sacks. Back at his natural position of defensive end for the first time in a couple of seasons, Goodman has his eyes fixed on a big finale.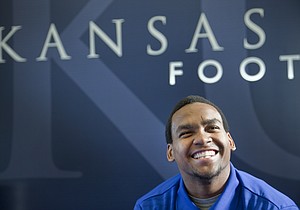 Smithson, a former juco transfer from Baltimore, played in all 12 games during his first season as a Jayhawk in 2014 and is projected to start and quarterback the secondary this season. He finished with 49 tackles, two for loss and one pass break-up a season ago.