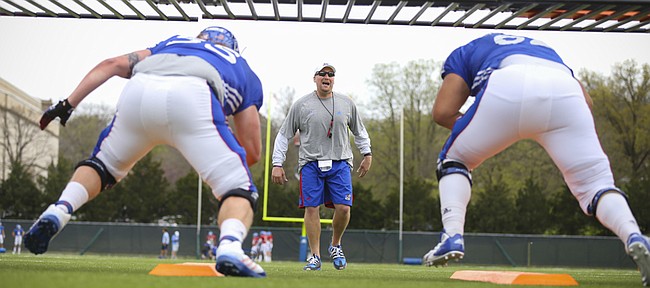 There are more than a dozen items on the to-do list of first-year Kansas University football coach David Beaty.
But no matter how busy the day or how daunting the tasks, Beaty and his assistant coaches always make time for one simple yet important part of player safety.
"We weigh 'em every day," Beaty said.
Four times a day, to be exact. Once when they arrive at the Anderson Family Football Complex for the start of the day. Once before they work out. Once more after they work out. And, finally, after they eat their last meal of the day.
"If they're done eating, and they still haven't gained the weight back that they lost (during practice), we'll send 'em back in, fill their plate back up and feed 'em some more," Beaty said.
The idea behind the never-ending cycle of watching the weights of his players is not cosmetic and has nothing to do with fitting stereotypes. Instead, it's an individual plan to help every Jayhawk reach his optimal weight so he can perform to the best of his ability during practices and workouts.
"Our whole thing is set up on nutrition," Beaty said. "Nutrition was a big deal for us (during camp), and the way that we made sure we maintained optimal weight throughout camp, our strength coaches and our coaches did a great job of watching that and making it a priority."
For some players, like senior center Keyon Haughton, finding the optimal weight is about movement.
"We felt like if we could get five pounds off of him and still keep his strength, he would be optimal," Beaty said of his likely starting center. "We thought he was just a hair heavy. He's gotten that weight off, and it's made a big difference for him."
Same goes for right tackle Larry Mazyck, who arrived on campus a mountain of a man a couple of years ago and now looks lean and athletic.
"Larry is a lot more efficient now because he's gotten his weight under control," Beaty said of his 343-pound tackle.
For other players, reaching optimal weight is more preventative in nature. Take junior cornerback Brandon Stewart, for example. Functioning throughout the spring and preseason camp as KU's likely No. 1 cornerback, Stewart was limited during the final few days of preseason camp because the coaching staff, trainers and strength coaches noticed something a little off. It was not so much something they saw with their eyes as it was something revealed to them in numbers on computer screens and sheets of paper.
"We put a lot of emphasis on the sports-science aspect of things," Beaty said. "And we pay attention to that data. That data tells us certain things, and, in (Stewart's case), that data was indicating he was reaching a point where injury could occur pretty quickly if we weren't careful."
So Stewart's reps were limited, and his body was given more treatment and the proper time to rest and heal.
Much of the process has to do with weight, and that's why Beaty and strength coach Je'Ney Jackson emphasized physical conditioning so heavily this summer.
Nearly every player on KU's roster dropped weight and got in better shape during the hottest months of the year, and many of them were offensive linemen, who, Beaty said, will have to be in the best shape on the team in order for KU's up-tempo Air Raid offense to have a chance to be effective.
Thanks to the hard work put in by Jackson and his staff and the relentless and detailed approach of offensive-line coach Zach Yenser, Beaty does not have any concerns about the conditioning of the big boys up front.
"What he's done with our guys has been second to none," Beaty said of Yenser. "I don't worry about their wind. ... They are ahead of the rest of the position groups, which is good. You don't see that very often."
Like many things in his coaching handbook, Beaty learned this practice from former boss and Texas A&M; head coach Kevin Sumlin. Sumlin addressed the issue of optimal weight with his assistant coaches every day and did so in a way that was more inquisitive than disciplinary.
"Kevin Sumlin's big-time on that," said Beaty before using a tale about former A&M; receiver Mike Evans as proof of how precise the process can be.
"When Mike was 226 (pounds) and below, man, he was phenomenal," Beaty recalled. "He'd get to 227, and all practice he was bending over, grabbing his toes, his hamstrings are hurting him, he can't make it through. Just one pound made that much of a difference."
Figuring out such specifics with his new roster continues to be a work in progress, but Beaty is plenty comfortable with the process. In staff meetings each Monday, the coaches discuss each player's weight and what they need to do to reach or stay at that optimal level.
"It's definitely new to us," said first-year offensive lineman D'Andre Banks, who came in at 330 pounds and now is in the 295-300 range. "At juco you just played at what (weight) you were at, but here we have things in place to help you play at your best weight and perform up to your best potential.
"You can definitely tell when you're on the field. If you're a little bit heavier, you're not moving around as well. One or two pounds doesn't seem like a lot, but it adds up in the end."