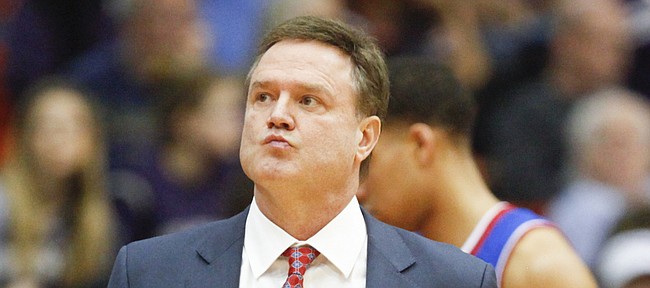 Bill Self, who runs Kansas University's tradition-rich basketball program, kicked off his 13th year at KU and 30th overall as a coach by speaking at Saturday's semester-opening Traditions Night in Memorial Stadium.
"It means ... gosh I'm getting old but I'm certainly excited about this year because I do think we could have a fun year," Self said. "A lot of things have to happen. We still obviously have an eligibility issue we've got to hopefully work out. But I'm excited because that group that went to South Korea ... they played great but you could look at it potentially that we could have had four of our top eight guys not even travel. That gets me excited."
Devonté Graham, who has fully recovered from a quad injury, and Brannen Greene (hip), who is expected to be full-go for the start of practice Oct. 2, did not compete for KU's gold-medal-winning team at the World University Games. Cheick Diallo and Svi Mykhailiuk, who were not born in the U.S., also sat out. Diallo, 6-9 from Our Savior New American in New York, is on campus and ready to practice but has not yet been cleared by the NCAA Eligibility Center.
"It wouldn't surprise me if we don't know anything for at least another month," Self said. "Nobody's been turned down. Nobody's been said no to, nothing like that. His school is obviously still in question (some classes reportedly may not be recognized by NCAA). We'll get an answer hopefully sooner rather than later. That will tell us what our next step needs to be as far as moving forward. We believe it should be a certain way but it's not about what we believe. It's what is right and what's fair. Certainly we'll fight hard for him," Self added of Diallo, who has been making at least 700 shots a day from 18 feet during offseason workouts.
Mississippi transfer Dwight Coleby attended Saturday's event. He was unable to come to Lawrence this summer because his passport was stolen in his native Bahamas. A story is at web address http://bit.ly/1MLdhXp
"Those other guys (bigs) have a big advantage over him (now). You don't push yourself on your own like you do when you've got some accountability. I think he'll probably labor conditioning-wise for two or three weeks. He's fine and ready to go," Self said.
This, that: Self said the 16 basketball players would live in Naismith Hall until the new McCarthy Hall is ready with a target move-in date of Oct. 1. "It's going to be well worth the wait," Self said of new apartments. ... The roster currently has 13 scholarship players and two walk-ons. All are in town except Frank Mason III, who arrives today. Former Lansing High player Clay Young, 6-5 sophomore from KCK Community College, likely will soon be added as a walk-on in coming days. To read about Young go to http://bit.ly/1NCY4H5 ... Self said he'd likely hold one week of Boot Camp instead of two because of recruiting conflicts. It likely would be the week of Sept. 21-27.
More like this story on KUsports.com