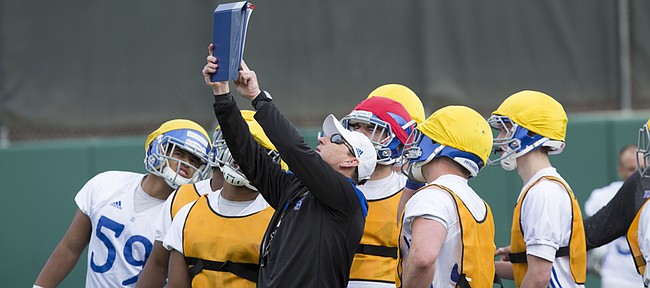 The more possessions a game has the more it favors the team with more talent, the favorite. That's pretty much true in every sport.
The Kansas University football team is shy on talent, depth and experience compared to almost every opponent on its schedule.
The Air Raid offense that new head coach David Beaty and his offensive staff will employ is all about cramming as many snaps into a game as possible.
Square peg, meet round hole.
So what's a coach to do?
"We won't shorten the game," Beaty said. "That's not how we play the game. We're going to continue to stay who we are because that's how we practice every day. It's who we say we are and we're going to continue to do that."
Bravo!
If Beaty has the discipline to practice what he preaches, it will greatly increase the risk of historic margins of defeat this season, but also improve the chance of KU football, years down the road, becoming a product that can draw talented recruits and big crowds, provided the victories eventually come.
If monster margins of defeat make Beaty gunshy, KU will remain a hamster on its wheel to nowhere. The long-range plan has to stay in the forefront to stay on the road to real change. Still, for myriad reasons, it won't be easy to keep pushing the pace.
Some scores will grow ugly, forcing fans to the parking lot.
Buttressing the morale of a defense that lacks experience and especially depth will require great skill. Worse, the most obvious depth problems are at defensive tackle — a position that requires regularly rotating players because the bigger the player the quicker he tires — and cornerback, where breathers are needed in a pass-happy Big 12 loaded with talented receivers.
It all adds up to an exhausted defense made all the more so because of the preferred fast pace of KU's offense.
Statistically, the Jayhawks' defense could be on the wrong side of school records, even if it's far from the worst defense in school history.
"If we're fortunate enough to get a lead we're going to continue to do what we do," Beaty said. "... We are basically a no-huddle offense. It's a two-minute-type mentality from the very get go. So when we talk to our guys we talk to them about you're never out of the game. You're just never out of it. You can be back in the game in a heartbeat."
Regardless of whether the offense succeeds or fails on any given possession, the defense will be back on the field quickly, winded or not, short-term pain necessary for long-term program gain.
More like this story on KUsports.com