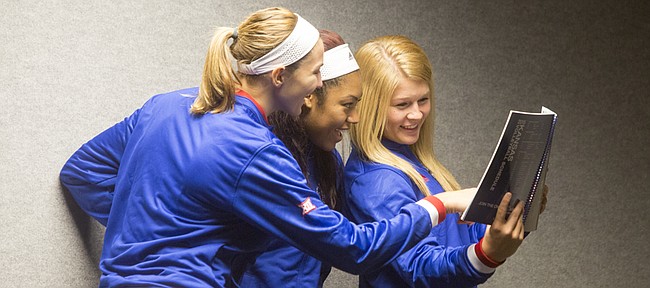 If everything goes according to coach Ray Bechard's plans this fall, Kansas University's volleyball program will accomplish something it never has before.
Accordingly, the Jayhawks have heard and seen a lot of one word in the days leading up to their 2015 season.
"Unprecedented" has left Bechard's lips, shown up on KU-produced paraphernalia and basically become embedded in the brains of the players, because the Jayhawks expect to reach the NCAA Tournament for the fourth season in a row — a feat unheard of since the team made its debut in 1975.
As Bechard pointed out, senior Tiana Dockery, a three-year starter, could become the first player in program history to participate in the NCAAs four times.
"I think when you start talking about players playing in the NCAA Tournament their entire career, then you start to develop some momentum within your program, you start to develop some tradition, and you're starting to build your brand," said Bechard, whose teams have reached the postseason in six of his 17 years at KU. "And that's very important for us as we come off a really nice season last year to continue to do that."
Junior libero Cassie Wait considers the opportunity to reach a new program milestone a blessing, and said she looks up to many of the Jayhawks who played for KU before her, including Brianne Riley, Caroline Jarmoc, Erin McNorton and Jaime Mathieu. Because of KU's previous recent success, Wait added, things that once were considered goals have become the new standards.
"Once you make things a standard, they almost become precedented," the 5-foot-8 junior from Gardner said. "Then the unprecedented seems possible."
Bechard's group might be able to do something special this season with plenty of talent returning from 2014's 22-9 squad. At outside hitter, KU has Dockery, sophomore Madison Rigdon (a part-time starter last season), senior transfer Ashlyn Driskill from Wichita State and freshman Ashley Smith, of whom the coach expects much in the future. But Bechard said freshman outside hitter Patricia Montero suffered a season-ending knee injury while representing Puerto Rico this summer, and the coaches thought the freshman would be a heavy contributor.
Junior middle blocker Tayler Soucie led the Big 12 with 126 blocks last season. Sophomore setter Ainise Havili finished first in the conference in assists a year ago, with 1,332 (11.3 per set). Meanwhile, Bechard says Wait does things he's never seen before from a defensive specialist at KU.
The "wild card," as the coach called her, though, is 6-3 sophomore Kelsie Payne, whom Bechard expects to dominate on the left and right sides with her length and athleticism.
Wait said every player on the roster is focused on getting somewhere the Jayhawks have never been before. Their journey begins Aug. 28 and 29 at a tournament hosted by Arkansas.
More like this story on KUsports.com