The runners on Kansas University's cross country teams should be quite familiar with Rim Rock Farm by season's end.
For the second straight season, the Jayhawks will host three meets at their home course, including the NCAA Midwest Regional. KU will also open the season with back-to-back home meets: the Bob Timmons Dual Classic on Sept. 1 and the Rim Rock Classic on Oct. 3.
"The thing we're excited about is that in order for us to make it to the NCAA, we have to do well at home," Kansas coach Stanley Redwine said while addressing reporters at KU fall sports media day. "We are hosting the regional meet this year — one of nine in the U.S. They take the top two teams automatic and then add teams at-large from there. If we can't get motivated this year to run well at home when the time comes, we haven't done our jobs."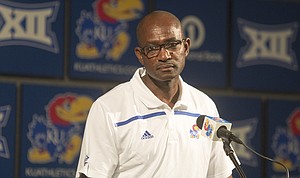 Senior Jacob Morgan, who was the Big 12 men's newcomer of the year after joining the Jayhawks from Colorado State, was the lone NCAA qualifier from the KU men's and women's teams combined after placing seventh overall with a 10,000-meter time of 30:17.6 at last year's regional meet in Peoria, Illinois. The Topeka native was not expecting to be the Jayhawks' No. 1 runner for the majority of the season, but Morgan was forced to step up with Evan Landes sidelined for the season due to injury. Morgan is looking forward to running alongside Landes this year to help the Jayhawks form a pack up front.
"Being more or less the front guy at the majority of the meets was frightening at first, but I got used to it," Morgan said. "Now I'm (trying) to keep up there and working with Evan (Landes) and trying to make sure that we're both up there at the front being low sticks for the team, being positive role models for them."
While Redwine will look to senior leadership from Morgan and Landes with his men's team, he expects a junior-heavy class to fuel the KU women.
"On the women's side, we have seven juniors, who I believe will be fighting to be in our top seven, along with, we have some newcomers that I believe will be fighting as well," Redwine said.
Fourth-year junior Hannah Richardson missed the 2014 cross country season after battling mononucleosis before bouncing back to set four personal records in track. Sisters Nashia and Malika Baker, Jennifer Angles, Courtney Coppinger, Rachel Simon and Kelli McKenna will round out the group of Jayhawk juniors, but Richardson indicated the team will also need a boost from sophomore and Lawrence High alumna Grace Morgan and the other KU underclassmen.
"I'm excited, and I think they're going to help me a lot," Richardson said. "And I'll help them."
More like this story on KUsports.com