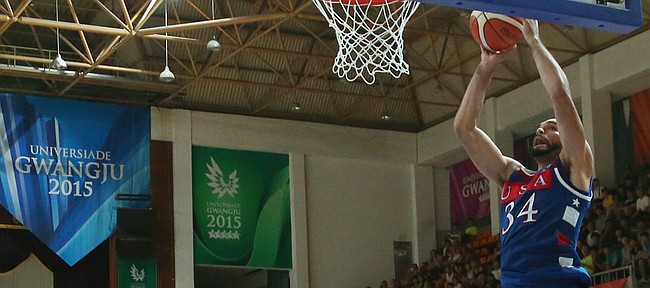 Kansas University senior Perry Ellis is the 15th-best player in college basketball entering the 2015-16 season, according to ESPN's John Gasaway.
Wichita State's Fred Van Vleet and Ron Baker check in at Nos. 4 and 6. Oklahoma's Buddy Hield is No. 12 and Iowa State's Georges Niang 13. Ellis was the only Jayhawk mentioned in Gasaway's Top 25.
"Ellis averaged 13 points a game for the USA team that won a gold medal at the World University Games in South Korea. For three seasons in Lawrence, the 6-8 power forward (who is sometimes pressed into duty as an undersized 5-man) has combined, more or less, exemplary efficiency with regular admonitions from Bill Self to be "ultra-aggressive." I anticipate seeing that same combination once again in 2015-16," Gasaway writes.
Taylor arrested
Former KU combo guard Tyshawn Taylor was arrested on Aug. 6 for allegedly using a counterfeit money order to obtain $1,000 in cash at "Big Banner Food Store" in his hometown of Hoboken, New Jersey, the New York Daily News reports.
Taylor, 25, was released on bond after turning himself into police. The Daily News said the store owners have known Taylor and his family members for years.
"When we went to deposit the order (on May 18), they said it was fake," store manager Luisiana Jimenez told The Daily News. "When we told him about it, he said, 'Yeah, I'm going to come to pay it back.' We called him several times, and he never paid it back. We even contacted his mother in Florida, and she said she would handle it and that she would talk to him, and nothing. All this stuff with police, and still he won't pay."
Jimenez's father, Luis, has owned the store since 1987. The Daily News says there is a pending court date.
"My dad gave him many chances because he grew up in this store," Jimenez told the Daily News. "My dad has been here 27 years and has always helped his family when they needed food, when they were short. He always made sure they had something. If it was anybody else, he would have filed the complaint the next day, but he tried to give him as many chances as he could. It's not only the money. It's the way he's been so ungrateful about the whole situation. That's what hurts the most. He just doesn't want to pay, and he's been very arrogant about it."
Taylor was a second-round draft pick of the Nets in 2012. On Friday, Taylor, who has had no comment on the matter, wrote some statements on Twitter that may or may not have been about this situation.
"You jus gotta let the ppl think what they want...everything isn't worth being addressed," he Tweeted. "Ain't in the business of explaining myself....FACTS."
Taylor played pro ball in Puerto Rico and Russia last season. He recently told cityofbasketballlove.com that he's exploring opportunities to play pro ball in France or Turkey this season.
"It's tough, especially when you go straight to the NBA and then you have to drop down," Taylor told the website. "To travel around a little bit, it's a little bit frustrating, it's a little tough. I'm hoping if I go overseas and have a pretty good season like I'm expecting to, I think that it'll be good.
"I'm just gonna keep at it," he added. "I think that's the hardest part about it, is just scratching and clawing and trying to fight for what you think you deserve. As far as me being in the NBA, I feel like I should be there. I think that's the motivation for me, is to try to get back to where I think I belong."
Embiid surgery slated
Former KU center Joel Embiid of the Philadelphia 76ers will have a second surgery on his right foot Tuesday and likely will miss the upcoming season, Yahoo! Sports' Marc Spears reported Saturday.
Embiid, who was selected No. 3 in the 2014 NBA Draft, had surgery on the same foot in June 2014 to repair a stress fracture and missed his entire rookie season.
Spears says the 21-year-old Embiid "is expected to have a bone graft procedure similar to the foot surgery of Oklahoma City Thunder forward Kevin Durant."
Meanwhile, ESPN.com reports that the 76ers do not have insurance to cover $9 million in salary that Embiid will earn in his first two injury-plagued seasons in the NBA.
ESPN.com says Embiid's right foot is excluded from a policy because it was a pre-existing injury. ESPN says if Embiid's foot had been insured, the Sixers would have received about $5.4 million from the league insurance policy.
ESPN's Darren Rovell writes that "one policy that didn't exclude Embiid's right foot was a permanent total disability policy the center signed in November 2013 while at the University of Kansas. A source familiar with the policy said Embiid first could collect a tax-free $5 million if he calls it quits three years after signing the policy — November 2016 — and can always collect as long as he doesn't play 20 NBA games."