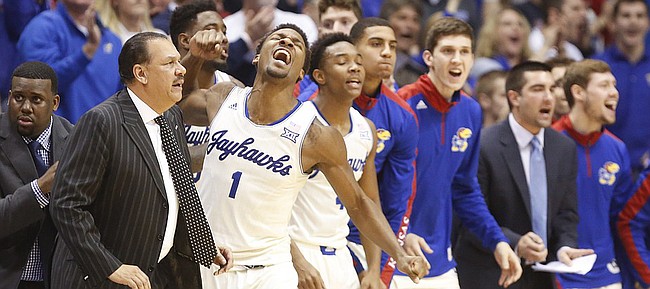 As usual, many Mondays will be big for the Kansas University basketball team in the 2015-16 season, once Big 12 play begins in January.
KU will play four times — twice at home and twice on the road — this coming season on ESPN's Big Monday showcase, the conference announced Wednesday.
The Jayhawks' first appearance comes at Allen Fieldhouse on Jan. 4, versus Oklahoma.
On Jan. 25, Bill Self's KU team will face Iowa State and new head coach Steve Prohm at Hilton Coliseum, in Ames, Iowa.
Oklahoma State visits Kansas on Feb. 15.
The Big Monday slate closes with a grand finale: the Jayhawks facing Texas and first-year Longhorns coach Shaka Smart in Austin, Texas, on Feb. 29.
This marks the 10th consecutive season the Jayhawks will play four times on Big Monday.
2016 Big Monday
 Big 12 Men's Basketball Schedule
January 4 - Oklahoma at KANSAS
January 18 - Oklahoma at Iowa State
January 25 - KANSAS at Iowa State
February 1 - Texas at Baylor
February 8 - Texas at Oklahoma
February 15 - Oklahoma State at KANSAS
February 22 - Iowa State at West Virginia
February 29 - KANSAS at Texas
(All games on ESPN at 8 p.m. CT)