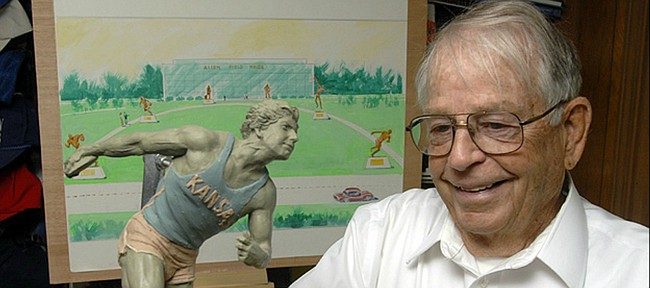 Legendary former Kansas University track coach Bob Timmons has died, a family representative confirmed to the Journal-World.
Timmons, affectionately known as "Timmie" while manning the Jayhawks' program from 1966 to 1988, was 91.
Famous for coaching all-time track great Jim Ryun at KU, Timmons' Kansas teams won 13 Big Eight indoor titles and 14 outdoor championships.
What's more, the Jayhawks won the NCAA indoor championship in 1966, 1969 and 1970. Shortly after that final indoor title, KU tied Oregon, BYU and Drake for the 1970 outdoor championship, giving Timmons and Kansas track four titles in a five-year span.
While track is the program most associated with Timmons, he also created Rim Rock Farm, KU's cross country course. He donated the farm to KU in 2005.
Former KU assistant athletic director Richard Konzem, who visited Timmons on Sunday, today e-mailed a note to some individuals Timmons had coached throughout the years as well as friends of Timmons.
Here is that note:
"Former KU Track Coach Bob Timmons passed away last night. As we journey through life, we are fortunate to meet some very special people, Bob Timmons was one of those. Many words can be used to describe 'Timmie.' He was ENERGETIC and FULL of LIFE. He was PASSIONATE: Fighting for NCAA student-athlete rights and welfare; Passionate about the Kansas Relays making sure he lived up to the expectations that Ed Elbel and Bill Easton had set.
"He painted, wrote poetry and sculpted guys like Al Oerter and Jim Ryun. He was a COMPETITIVE Rascal (rascal was a favorite word of Timmons): And that led to Championships: 4 NCAA Titles, the most NCAA Championships by any KU Coach: 12 Top 5 NCAA finishes, 27 Big 8 titles, 24 Kansas State High School Championships in Track and Swimming
"He was also a man of FAITH: Quietly and humbly he led by example; he's thankful for the gifts he has been given and uses those gifts to the fullest extent In the end, there's only one word is necessary to describe Bob Timmons, He was our COACH."
Konzem, who served as Timmons' student equipment manager at KU from 1976 to '80 and supervised KU track and field when Timmons was coach in the late '80s, said he'd never forget the quote from former Secretary of Defense Bob Gates when Gates was named Kansan of the Year in 2010. Gates was Timmons' student manager at Wichita East High School.
"Half a century later, as Secretary of Defense of the United States, I carry Bob Timmons' life lessons in leadership, integrity, discipline, motivating people, and treating all of them respectfully, to work with me every single day. Coach, thanks," Gates said at the time.
Konzem, who now does consulting work in college athletics and also is an adjunct faculty member at Rockhurst University in sports management as well as women's golf coach, told the Journal-World: "Coach Timmons was energetic. He led life to the fullest. He set the bar. He set the expectations. He didn't have to yell at you or anything because everybody aspired to meet those expectations. You didn't want to let him down. You gave it your all every day. Nobody wanted to let coach down."
Kansas legend Ryun, who first competed for Timmons at Wichita East, took to Facebook Wednesday afternoon to offer his thoughts on his coach's impact.
Ryun, who would go on to own world records in the 880-meter, 1,500, mile and two-mile races, said Timmons challenged him in 1963 to become the first high school runner to finish the mile in less that four minutes.
"He was the big dreamer imparting his dream for me — I was to take ownership of it," Ryun wrote. "Together we accomplished the goal the night of June 4, 1964. That evening opened for me a world of possibility that helped this shy, slight boy from Wichita achieve things I would never have dreamed I could achieve."
KU track coach Stanley Redwine today said of Timmons: "The Kansas Track & Field family has lost a legendary figure in our history. Coach Timmons led KU to unprecedented success during his time here and should be remembered, not only as a great coach, but as a great mentor as well. He continuously strived to set a standard of excellence that we fully recognize to this day. His contributions of our home cross country course of Rim Rock Farm also shows what a truly dedicated Jayhawk he was. Our thoughts are with Pat, their children and the rest of the Timmons family during this difficult time."
Athletic director Sheahon Zenger said: "KU has lost a true treasure. Coach Timmons was one of the all-time greats. His legacy, though, does not end with championships and medals. His real legacy is how much he cared about his student-athletes and the University of Kansas."
— Check back in with the Journal-World and KUsports.com later for much more on Timmons' legacy.